Tech teacher puts students in the spotlight and behind the spotlights
While many people have never heard of Zach Taylor, he has been the driving force behind the sets of the WHS theatre for the past 6 years. Taylor is the founder of the local theatre company Skyrise Theater and works to help the theater productions of both WHS and Gibbons Middle School. 
Taylor's main goals as a tech director are to create in-depth, safe sets on which the cast performs, and to push his students to be more directly included in the construction process.
Those who have seen some of the shows over the past few years including Urinetown, Tempest, or The Drowsy Chaperone know of the massive sets and intricate designs. From giant trees with moving plants, a flip-up bed, or a plane flying down from the rafters, each show has memorable sets that do not go unnoticed. 
Taylor began learning how to design in college where he would draw out designs on paper, and build small cardboard models. Over time he taught himself how to use CAD and other 3D design programs to better flesh out and to teach how the sets will function. However, he does not claim full responsibility for the grand sets.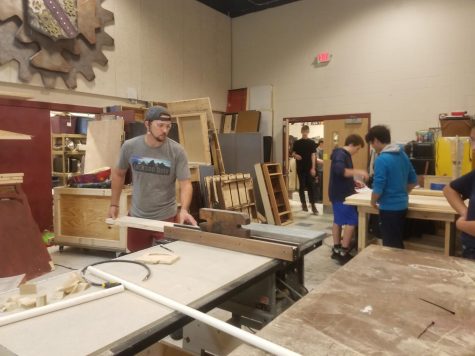 "Most schools don't have students working on sets," Taylor says.
Taylor also believes it is best to let the students "step up" if they want to. 
If students wish to join the tech crew to have fun, they can.  Each aspect of tech (build, paint, costumes, props, lights, and sound) all have student leaders to run them semi-independently. Students can always suggest new designs or new ways to get something done. 
Taylor shares, "All talents can be used in the theatre from drawing to crunching numbers, dancing: whatever your talents are, there is a place for you here."