WHS Alum Kevin Garcia Awarded Anne Piscia Scholarship
On Monday, May 20, Westborough High School alumnus and MassBay Community College student Kevin Garcia received the Anne Piscia Memorial Scholarship. The scholarship is awarded to WHS students who speak English as a second language and are pursuing a higher education degree.
This year, scholarship recipient Garcia is currently paying his way through college, the first in his family to attend. Garcia called the scholarship "a great opportunity" and is "proud to be receiving the award."  He received $1000 in scholarship money.
Garcia's former ELL teacher Jackie Coelho, reflects on how empowering the scholarship can be, after personally seeing all the barriers ESL students face; "to see one of my students that's working so hard to go even further really fills my heart."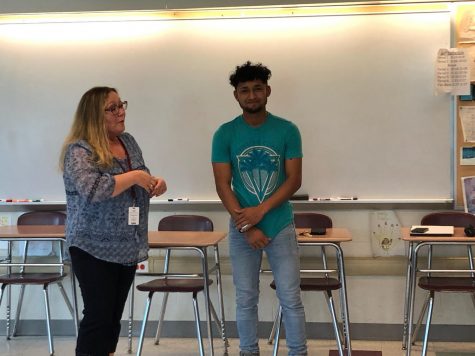 Anne Piscia was a former Spanish teacher at WHS and advocate for English language learners; Piscia lost her battle to cancer four years ago. Close friend and WHS colleague Diane Perryman described Piscia's determination through adversity: "She worked for ten years after being diagnosed; she was committed to each and every one of her students and we hope that the scholarship reflects that kind of commitment."
Perryman and other staff were "so happy to honor her legacy, especially helping the population of students she so deeply cared about."
Many were grateful for the availability of such scholarships in Westborough, from Garcia who "never thought [he'd] be able to have this opportunity" to Coelho who was "incredibly thankful to be living in a community that helps students so much."
To learn more about Anne Piscia and donate to her memorial scholarship, please visit the go fund me page:  https://www.gofundme.com/auwnjzks.