Ninth Annual Mr. WHS Takes on "High School Musical"
Abby Papetti and Cam Erickson
May 28, 2019
Hang on for a minute...we're trying to find some more stories you might like.
On Thursday night, Westborough High School hosted the ninth annual Mr. WHS competition. The night was filled with many laughs and surprises as the 10 boys competed to be crowned the 2019 winner while working to raise money for the Worcester Food Bank. This year's contestants were: Miles Henderson, Pranava Kumar, Joey Kurtz, Hanjie Li, Ryan Nichols, Matt McCarthy, Harrison Philbrook, Tommy Riela, Omar Siddiqui, and Nick Smaldone. Each contestant portrayed a character from the classic movie "High School Musical" to match the theme of the show.
The show was advised by Westborough High School teacher, Ms. Gormley and Director of Fine Arts, Mr. Martin. When asked about the show and the group of boys, Ms. Gormley says, "This year's crew has worked extremely hard and I am very proud. The best part is that, before the show, a lot of the seniors aren't necessarily close friends so it's awesome to see the bonding between the team." She also mentions that some of the boys "forgot it was a competition" because of how much fun they all had together.
Directors and seniors Chloe Goebel and Amanda Parsons were also very excited by how successful the night was. After the night was over, Parsons comments, "The whole process was really fun. All the boys worked really hard and they really stuck with it even when it wasn't easy. Everyone who was part of the crew worked really hard and I am really proud."
After a long show of many talents and exciting moments, Pranava Kumar, better known as "Prune", was crowned winner. Prune said, "anyone could have won the competition but I'm really happy that it was me. The show turned out really well and it is definitely the craziest thing I've ever done."
Prune brought his talent to Mr. WHS by performing a famous dance routine from the 2004 comedy "Napoleon Dynamite." His Elmo impersonation along with fellow competitor, Ryan Nichols, definitely brought in many votes, as well. Prune also wanted to send a message to the everyone who was at the show saying, "Thank you so much to everyone who came. The crowd was great and made it super fun".
The runner up, Tommy Riela, also had a very eventful night with his cowboy-inspired performance of "Take Me Home, Country Roads" in addition to his shockingly accurate Mean Girls impression for the Scenes portion of the competition. Riela comments, "This has definitely been one of the best experiences of my life, It all went by so fast and we had the best group of guys."
Riela also wanted to compliment the production team. "We couldn't have done it without them." Riela especially appreciates the audience participation during his talent act.
Overall the night was a huge success, raising over $7,500 for the Worcester Food Bank. All the boys had a lot of fun and are taking away one more great memory of WHS before their last day on Friday.
About the Writers
Abby Papetti, Social Media Coordinator
Abby Papetti is a Managing Co-Editor, Social Media Coordinator and Sports Editor for The Lobby Observer. Since being part of Journalism for the past three...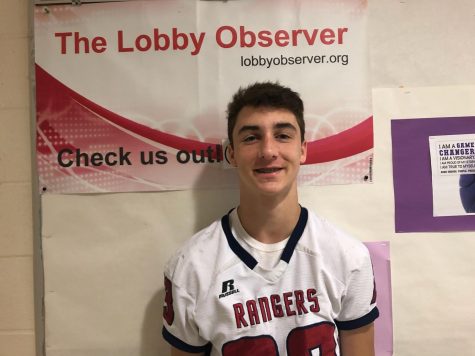 Cam Erickson, Sports Editor
Cam Erickson is currently in his junior year as a sports editor for The Lobby Observer. He is in his third year of journalism, and enjoys broadcasting...