Señorita Rhein Makes an Impact at WHS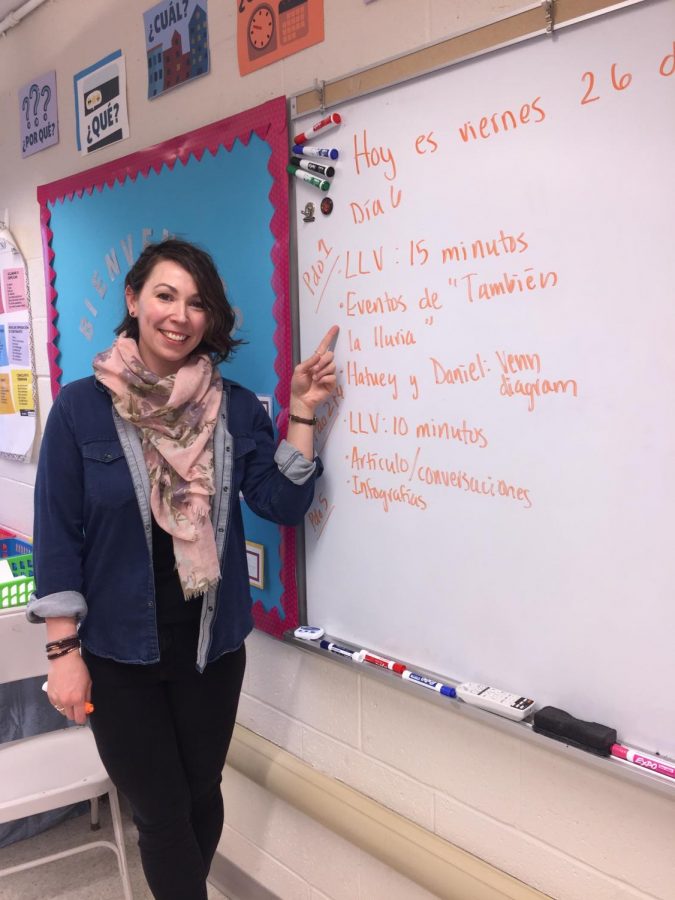 Sydney Johnson and Nikki Farmer
April 29, 2019
Although this is her first year at WHS, Señorita Rhein has a lot of experience with teaching. She has been a long term sub at a local school in Medfield, Massachusetts. Señorita Rhein has also taught at a dance studio during her high school years and is currently teaching a yoga class at a nearby studio. This year she knew she was ready to teach full time and returned to the same school she had attended as a student years before, Westborough High School.
While Señorita Rhein was finding her passion in high school, she took AP Spanish, and always had a love for learning this language. Her mother was a teacher while she was growing up, and this helped her to find her true passion for teaching.
Teaching was not her original idea for her career path. While she was attending Hampshire College, she went in without a major, as did every student, but did a concentration in Spanish. She started to find an interest in photojournalism. Then, after spending a semester in Mexico, her past love of Spanish was revived. With the help of her mother, she gained a passion for becoming a teacher.
Señorita Rhein says that at Westborough High School "There is always someone who is willing to help, and there is always that teamwork going on. So, it has been really wonderful working here."  
One of the most important parts of the job Señorita explains is making sure that every student's experience is an engaging one. She feels as though every student in the classroom matters, and even tries different activities in the class in order to gain some student's confidence to participate.
She also states how she hopes to bring "that interest in learning a language and to be able to contribute to the department." With the new proficiency model, Señorita Rhein hopes "to be able to integrate that and make it easy for students to access, and for students to speak Spanish."
She also mentions how the people involved in the World Language Department have been a big help in getting her settled. Señorita Rhein has been working with the other new teacher in the department, Señorita LaPlatney. The two help each other with ideas on how to handle the content and consulting one another for advice.
Although teaching is a very important part of her life, powerlifting has also become a major part of her life as well. Powerlifting consists of lifting weights on the bench press, the deadlift, and as well as squatting. She has been gaining a passion for powerlifting and lifts about three times a week. Señorita Rhein explains how powerlifting is a very uplifting, and empowering activity, which she recommends that all women should do.
Señorita Rhein shares how she admires women who take risks and follow their dreams no matter what the social norm is. Señorita Rhein also says how she aspires to be a woman who is not afraid to take risks and is able to put herself out there.
Señorita Rhein has already made an impact in Westborough High School and will surely contribute to making WHS an even more welcoming and influential community.