Spofford and Goodman Putting on their Last WHS Musical: A Drowsy Chaperone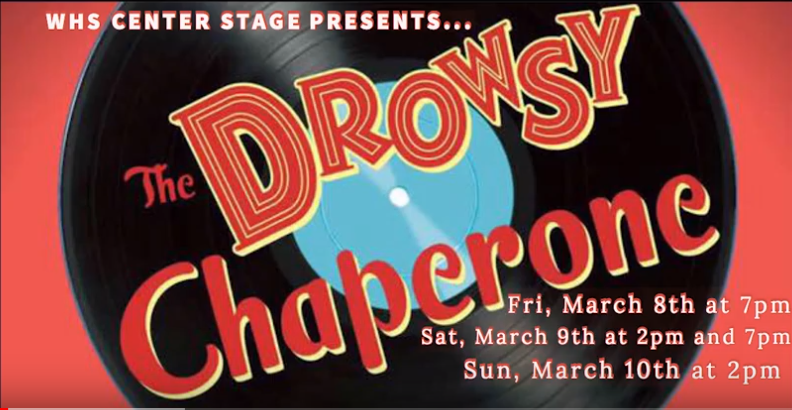 Miara Sasdi '20
March 8, 2019
Westborough High School's 2019 spring musical, The Drowsy Chaperone, will be performed the weekend of March 9. WHS Center Stage's high school students have been working hard the past few months to prepare for their performances.
The Drowsy Chaperone is a comedy taking place in the 1920s centered around a wedding gone wrong. Junior actress Carolyn McDermott describes the show as "hilarious and face-paced…I think high schoolers would really enjoy this musical, especially as it is different from many of the other shows we have done, such as the Wizard of Oz which was more little kid oriented. This is more targeted towards older kids."
Unlike the fall play, which has three performances, the musical will be performed four times over three days: Friday, March 9 at 7 pm, Saturday, March 9 at 2 pm and 7 pm, and Sunday, March 10 at 2 pm. This will be the second big performance the new Center Stage director, Ms. Smith will be leading.
Seniors Helena Spofford and Jack Goodman both play essential characters in the musical and have important roles within Center Stage. Spofford, who is the Center Stage president will be playing the character of the drowsy chaperone in the musical. She describes, "The cast has been really great. This year a lot of the scenes we do are together and a lot of the people are on stage together."
Adding on to Spofford, senior Jack Goodman – publicity chair for Center Stage, playing the role of "the man in chair," one of the main characters in the play – adds, "This year I've noticed that we have had a lot of new sophomores and freshmen that have joined Center Stage, which is also really exciting, so we have a lot of new fresh faces in the cast."
The cast is a tight-knit group who enjoy spending time together off stage. Helena Spofford shares, "Bryana Siqueira who is our activities manager had us all go to Roller Kingdom because one of our male leads, Luke Capello, roller skates during the show. It was really fun to go all together, especially because it brought the cast together."
Spofford also reveals that the most challenging part about the show is that, "It has a lot of dance numbers. It is very flashy because it takes place in the 1920s. It is supposed to be a very animated musical, you really have to keep facial expressions on, and have the biggest expression possible. This can be difficult, but also really fun at the same time."
Goodman adds, "We are working to make sure that comedic time is right because there are so many well-timed jokes that I think are hysterical. We have been working really hard to make sure that they stand out."
For Goodman and Spofford, this will be their last musical at Westborough High School. Spofford has been participating in WHS performances since she was in seventh grade, where she was brought up from the middle school to play the little sister in Fiddler on the Roof. Helena Spofford explains, "It's crazy to think that it is my last musical here, especially because I have been apart of this since seventh grade. Also, Once Upon a Mattress was our first musical freshmen year, which was also set in the 1920s. It's interesting for me because I will probably be wearing some of the same things, so it's really a full circle."
Goodman adds that it's strange how this is the last musical, especially because he has been a part of every Center Stage performance at Westborough High School. Spofford will be attending Northeastern University in the fall where she will be majoring in American Sign Language and will be studying her first semester abroad in London. Jack Goodman will be attending Hofstra University where he will be majoring in music composition.