Little Bean, Big Impact: LCB is Changing the Coffee Scene in Central Mass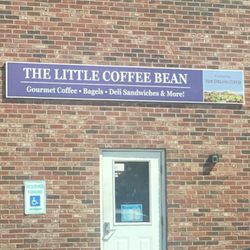 By: Emma West '19 and Gemma Smith '19
If you're tired of the classic coffee shops here in Westborough, a hidden gem in Upton is here to fulfill your cravings! Located on 113 Main Street, the Little Coffee Bean is known for their great coffee and food.
Since its opening in 1997, the Little Coffee Bean (or "LCB" to its fans), has been serving their loyal customers for many mornings and early afternoons. Family-owned since its beginning, LCB serves coffee, pastries, and bagels for breakfast, as well as soup and sandwiches for lunch options.
The Little Coffee Bean serves New England brand coffee that comes in many different flavors, such as French vanilla, Snickers, cinnamon sticky bun, mudslide, brown toffee crunch, caramel nut crunch, hazelnut and even more!
Prices are very inexpensive compared to both local breakfast places and other chains. The most expensive iced coffee size – called the "Jumbo" – is only $3.68. Prices for sandwiches and bagels are under $3.00. Many chain coffee places round up five or ten cents on their products for an "easy" (inflated) price for their customers, but LCB provides breakfast and lunch fair at low prices. They also offer a coffee club card, a smart idea to keep customers coming back. After purchasing a coffee, your card is stamped, and after ten coffees, it eventually earns you a free coffee (any size or flavor too)!
We were very impressed by both the selection and the quality of LCB's offerings. As a pair, we have sampled numerous coffee flavors, such as cinnamon sticky bun, Snickers, and French vanilla. The friendly staff, even at a busy time (especially weekend mornings), is more than willing to assist with questions and concerns; they'll also fulfill menu requests, such as substituting toast or an English muffin on a bagel breakfast sandwich. They are always polite and helpful, making LCB an even more enjoyable coffee shop to visit.
LCB is great for takeout and eat-in options; the shop features quick service and convenient, cozy space in Upton fit with booths.
The only flaw? With school's new start time, it's difficult to catch them before they close at 3:00 on weekdays for an after-school coffee run. But with LCB's delicious offerings, it's worth rushing out of school or waking up early on a Saturday or Sunday to give it a try!
Location: 113 Main St, Upton, MA 01568
Weekdays 4am-3pm
Saturday 4am-2pm
Sunday 4am-1pm