Red Heat Tavern is On Fire!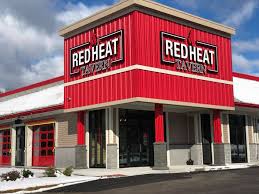 Riley McNamara
January 23, 2019
Hang on for a minute...we're trying to find some more stories you might like.
Red Heat Tavern is one of the newest popular restaurants in Westborough, and it is here to stay. Many people, as well as myself enjoy this new addition as it has new and good food options.
Walking in through the door, right away, you notice the outstanding atmosphere. There is something for everybody; a bar for the parents and two shuffleboard tables for people of all ages. Also, in the summertime, there is an outdoor patio for more seating where people can enjoy the fresh air. This area is accommodated by clear garage doors that can open up and there are also lights that are strung for eating at night. Although it can get loud when it is crowded, there is plenty of seating and space for everybody.
Despite Red Heat being crowded on a Saturday night, the service was good in my experience. To order our drinks, it took some time but right after that, we were able to order our food quickly. To order, instead of the waiter jotting it down on a piece of paper, he uses an electronic device that is quick and easy. When Red Heat adopts this device, it saves more paper as well as being more efficient and less time-consuming.
   The menu is filled with a variety of options for everyone. There is a kids menu with many choices, gluten-free options, and even a few vegetarian options. This allows everyone to be able to eat here and enjoy their meal.
When at the restaurant, we first ordered an appetizer of nachos and then I ordered a cheeseburger for my meal. The nachos were large and they are good for a group of about four people. They were filling as we were unable to finish them. Also, while we were eating the nachos, our waiter came back and checked in to see if everything came out good. Another feature about this restaurant that is positive is that there are free refills so I was able to get a second soda.
Our burgers came out soon after we finished our nachos which was good timing. The burger was cooked to perfection, just as I requested it. With a meal, you get one side and I chose to get french fries. I have to say, the fries were the best part of the meal and I highly recommend getting fries as a side.
The price for all the food was reasonable and Red Heat is a great place to go to get quality food at a decent price. For example, the nachos cost $13.95 and a regular burger costs $12.95. Also, the dining is casual so no one needs to get dressed up, but it also isn't like a fast food place.
   Red Heat is open from 11:30-9:30 on Sundays, 11:30-10:00 on Mondays-Wednesdays, and 11:30-11:00 on Thursdays-Saturdays. Also, there are multiple locations around Massachusetts and Westborough is the newest. The five locations include Milford, MA Wilmington, MA, Bedford, MA, Westborough, MA, and South Windsor, CT.
   Red Heat is a perfect restaurant for families because there is good food, service, atmosphere, and prices. Red Heat has everything for an ideal restaurant.
The learn more about Red Heat Tavern you can vist their website: