I Am > I Was: The newest album from 21 Savage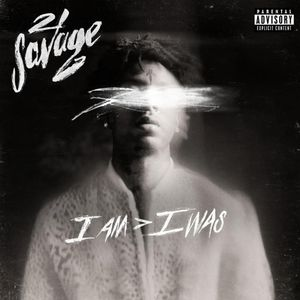 Sam Schiffman
January 18, 2019
Hang on for a minute...we're trying to find some more stories you might like.
<iframe src="https://open.spotify.com/embed/album/007DWn799UWvfY1wwZeENR" width="300″ height="380″ frameborder="0″ allowtransparency="true" allow="encrypted-media"></iframe>
Atlanta born rapper, 21 Savage delivered his newest album I am > I was on December 21, 2018 and features artists such as Post Malone, Gunna, J. Cole, Lil Baby, and Childish Gambino. This newest record is the fourth solo project in the rapper's discography and certainly one of the best.
The title I am > I was, translated to "I am greater than I was", certainly lives up to be true. While we still get the gritty gangster songs from Savage, we also get to see his softer side. On songs like 'pad lock,' 'ball w/o you,' and 'letter 2 my momma,' we hear Savage open up about the struggles of relationships and the hardships of growing up in Atlanta.
Some of my favorite tracks from the album are '1.5' where Savage is accompanied by Migos rapper Offset. This track displays the growth of 21's ability to rap and has a flow that is very satisfying. The song 'All My Friends' featuring Post Malone is a sure hit. After the success these two artists had on the track 'Rockstar,' fans were begging for another track from the duo. My favorite lyric of the whole album comes on this album where 21 raps " Why you got a 12 car garage? (Why?) 'Cause I bought six new cars (No lie)" This line is a callback to his early days where he would rap "They like, "Savage, why you got a twelve car garage. And you only got six cars?" Almost all the tracks on this album I enjoyed and the consistency of 21 on this album is undeniably great.
The main theme of the album is growth, as explained in the title. 21 details growing up in Atlanta and how it has shaped him as a man. This can be clearly seen in his song 'letter 2 my momma' where 21 thanks his mother for all the help she gave him to stay out of tough situations. It can clearly be seen throughout the album that 21 has grown out of his dangerous ways, but still keeps the Savage style rapping that has made him successful in the first place.
The album spent two weeks atop the Billboard Hot 200 Albums and rightfully so. It is great to see 21 doing so well on the charts as this album is, in my opinion, one of the best of 2018. 21 is nominated for 2 Grammys in the categories, Record of the Year, and Best Rap/Sung Performance, for his work on "Rockstar" Hopefully 21 will win these Grammys, as it would be a major step in his career. I can't wait to see what 21 releases next, as I am sure it will be as good, if not better than I am > I was.
Sources: https://www.billboard.com/charts/billboard-200
   https://genius.com/albums/21-savage/I-am-i-was-deluxe