The Simple Greek: A Hidden Gem in Westborough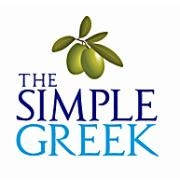 December 14, 2018
Filed under A & E
Hang on for a minute...we're trying to find some more stories you might like.
By: Caroline Hamel
If you're a lover of  Greek food, The Simple Greek is definitely the place for you. It is located near Sky Zone and Stop & Shop in the Speedway Plaza off of Route Nine in Westborough. Their menu contains classic gyros as well as Middle Eastern falafel.
When you walk through the door you are greeted with the color of Greece, a nice cool blue.
When you order your food it's simple. They use the same technique as Chipotle and Subway. The employees will ask you whether you want pita bread or a bowl. If you desire to have meat they got you covered. They have two gyros cooking right behind the counter usually chicken and traditional. You then continue down the line and add the toppings you want. If you get pita, they warm it up on the grill right before you add meat and toppings.
They also serve sides that you can add to your meal. Some of their sides include dolmades(rice and beef wrapped in grape leaves), fresh cut fries with Greek seasoning (and regular), spanakopita (spinach pie), tiropita (cheese pie), hummus and pita, and soup.
Don't forget dessert! They have traditional Greek baklava, rizogalo (rice pudding), and baklava cheesecake (my favorite).
The overall service, employees, food, and appearance are perfect here. The employees are caring and kind and a delight to talk with. I would give them five out of five stars.
The Simple Greek is located right next to Burlington Coat Factory and Stop & Shop in the Speedway Plaza off of Route Nine.  Their address is 290 Turnpike Rd #130B, Westborough, MA 01581. They also have a website: https://thesimplegreek.com/location/westborough-ma/. Their hours are Mon-Sat 11am-9pm Sunday, 11am-8pm.