Kawhi Leonard to New Balance: A Good move?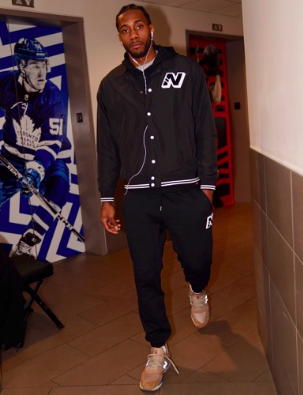 Sam Schiffman '21
December 13, 2018
Filed under Sports
Hang on for a minute...we're trying to find some more stories you might like.
On November 28, star basketball player Kawhi Leonard signed a multi-year shoe deal with New Balance. The news came as a surprise to many people, as New Balance is not yet established in the basketball shoe genre. Leonard was signed with Jordan brand for four years. While some may see this as a bad move for Leonard, I believe it is the complete opposite.
There are many pros to Leonard's decision to sign with New Balance such as the opportunity to become the face of the brand, his own signature shoe, and of course a large paycheck. Although New Balance is not currently producing basketball shoes, they definitely have the resources to make a great shoe.
The Boston based company produces shoes with high-quality material and high-quality manufacturing. ESPN reported that the brand also pitched deals to stars like Joel Embiid, Gordon Hayward, and Kelly Oubre Jr. all of which ended up signing with other brands. It was also reported that New Balance presented these players with "tours of their Boston-based headquarters, personalized digital display boards, iPad mixes of the players' journeys, and a strong marketing plan."
Leonard's decision to sign with New Balance will give the brand an opportunity to emerge themselves in the basketball market. While some people may say that Leonard is crazy to sign with a brand that is not yet making basketball shoes, some may see it as a chance for independence. It is not yet clear if Leonard will get his own signature shoe, but if he does I'm sure that Leonard will be happy with his decision. When Leonard was signed with Jordan he did not have an opportunity to create his own shoe.
While there are definitely some negatives to this deal, such as the brand's emptiness in the basketball market, the positives outweigh the negatives. Leonards move is definitely unique, but a good one. It will be very exciting to see what New Balance comes up with for the Toronto Raptor, and two-time All-Star.