Rec Ball Week One Predictions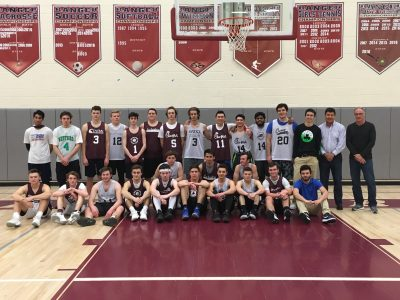 Jack McGinn '19 and Eric Gould '19
December 6, 2018
These are our predictions for the games of week one, including the Monday night ones. These are out pretty early — the first game is over a week away — but it's never too early to get hyped.
December 16
Khoury vs. Barry–Winner: Barry
Team Khoury is a defensive masterpiece, but they'll struggle to break the press; that proved to be a problem against even the best ball handlers in the league last year. If Team Barry decides to run this press for a majority of the game, Team Khoury will struggle. We see this matchup being a lower scoring game because Team Khoury can bring it on the defensive but doesn't have a lot of offense. Choate will be too big down low if this becomes a game played in the half court, but he won't provide enough to single-handedly carry his team to victory. Choate will need others to help out in the scoring column. The athletes that make up Team Barry (and Tyler Nagi) will force too many turnovers for Team Khoury to win this game. Team Khoury may not have won a game in the past two years, and they may not win this game, but they definitely won't be winless this year.
Croft vs. McGinn–Winner: McGinn
We see this game being a big win for Team McGinn in week one. Team McGinn should be too much to handle for the talent of Team Croft. Who's going to guard McGinn? Who's going to guard Prune? Freshmen Elliott Seymour and Brendan McDermott should be big factors down low for Team McGinn, and Robbie complements them well with his outside shooting. We see Crowley using his JJ Barea game style to craftily keep his team within reach. However, Crowley, Keith, and Arthur will have to combine for 30 plus to truly have a chance.
Grossman vs. Last–Winner: Grossman
This matchup could go either way, but after seeing Jack Cardin and Kevin McCarthy score at will in practice, we're giving the edge to Team Grossman. Sternberg, Burger, and Flahive. They will have to score a lot to pull off the victory, but it's definitely possible. If Team Grossman takes the L, there could be some tears shed and an apology email sent from Coach Grossman for being too intense, so for the sake of their emotional well-being, we hope that Team Grossman pulls through.
Guilbeau vs. Philbrook–Winner: Guilbeau
One name: Arya Mistry. Philbrook is going to have a tough time defending this beast. Give him space and you can count it as 3 points. To complement Arya will be Keegan on the block and Guilbeau on the wing. The Kaplans are also good ball handlers which will help this team on the fast break. However, the height of Matt McCarthy could prove to be too much for this small Guilbeau team. Look out if Boyer and the Philbrook trio get hot from three. We see this being one of the closer games of week one with a slight edge to Team Guilbeau.
Hogan vs. Schiffman–Winner: Schiffman
Number 16 versus Number 1. When asked how his team would fare in game one, Will Schiffman responded, "We should beat them by 20, easily. I expect to score a cool 12 points while getting my teammates involved."
"We should beat them by 20, easily. I expect to score a cool 12 points while getting my teammates involved." – Will Schiffman
Schiffman certainly didn't back down from giving Team Hogan bulletin board material. We see this game being a big win for Schiffman as Team Hogan will struggle to defend against the backcourt duo of Nichols and Schiffman. However, Hogan does have something going for them: Ryan Primeau is simply too much of a unit down low for one person on Team Nichols to handle. We will most likely see Ashwin on him this week. Primeau has pressure to put up a lot of points in week one to prove he was worthy of his high draft position. Even with this advantage in the paint, we still see Schiffman outscoring Hogan as their backcourt is arguably the best in the league, and they'll have too many good athletes for Team Hogan to cover. Maybe if Jaeger scores more points than he scored in all 3 previous years of Rec Ball Team Hogan will stand a chance. Could Team Hogan be the UMBC to Team Schiffman's Virginia? We'll have to wait and see, but the early verdict is no.
Kelley vs. Townsend–Winner: Kelley
One question… Who's going to guard Zach Walker? We see Walker putting up the most points out of any individual player in this week one matchup. Team Townsend will have to double Walker in hopes of stopping him, but we still see him easily scoring around 30 points. Pat Kelley versus Jeremy James and James Fitz are intriguing matchups to watch. Team Townsend does have some defensive animals in AJ Reinach and Zac Colebourn, but they're too small to take on the sheer size that is Zach Walker. To us, this comes down to a matchup as who can score more… James and Jeremy, or Patrick and Zach? Team Kelley will probably be 1-0 after week one, but Team Townsend is always down for underdog status.
Capello vs. Macelhaney–Winner: Capello
This game is a toss up and the hardest game to decide this week. The role players on these rosters are somewhat even. Navi, the Kumars, Capello, and Hirsch seem to balance out Sid, Gately, Meehan, Finnerty, and Laughlin. We believe it'll come down to Frenchy versus Eli. We're predicting Frenchy will have a big inaugural week to his senior year and drop a 30 ball while carrying his team to victory, but don't count out Eli, the Kumar brothers, and Team Capello.
Meyer vs Bersani–Winner: Bersani
Bersani and Meyer both have some talented players, but we'll give the edge to Team Bersani in week one. Brendan and Pete versus Anirban and Levine is one of the best matchups of the week. There's a lot of scoring between the duos and some solid defenders on both squads. The intrigue behind this matchup is centered around both teams' duos, but this is a game that could be decided by the role players. Team Meyer has Alex Mack, Zeeshan, Colin Bentley, and more who will have to lend a hand scoring and defensively. Team Bersani Has Danny McMillen, Hugh Burke, Jake Tags, and the brothers O'Keefe who will play a role on both ends of the floor. This game is another toss-up, but we'll give the nod to the team with the more recent school ball players: Team Bersani.
December 17
Last vs. Barry–Winner: Barry
Team Barry is the favorite here. However, unlike their first matchup, Team Last has players who can handle the ball against a press if it's used. Jackson Barry will be too much for Team Last to handle offensively. Team Last could manage to keep it close and possibly steal a win but they'll need a big game out of Josh Sternberg to make it happen.
McGinn vs. Philbrook–Winner: McGinn
In this Monday night game, I see Team McGinn coming out on top. They simply have two elite players and solid role players that will most likely be too much for Philbrook to handle. Word has it Elliott Seymour is looking to crack the top tier of players, so we'll see if he can make a name for himself in week one. Defensive animal, Prune, will be a beast down low and will be hard to score on. Once again though, look out if Team Philbrook gets hot from three. Team Philbrook will need at least two of Jared, the McCarthys, Rhidam, or the Philbrooks to drop double digits to keep pace. I can easily see this team going on a quick run and never looking back. With all these things in mind, I still see Team McGinn as the favorites to be 2-0 after two straight days of basketball.
Macelhaney vs. Schiffman–Winner: Schiffman
In the final game of week one, we see a potential blowout. Team Macelhaney is going to have a very tough time defending guard Ryan Nichols. We see Team Schiffman running right past Macelhaney on the court and on the scoreboard. This team is full of athletes. Eli Richman will have to put up a solid 20+ points for Macelhaney to have a chance. Owen Gately will also have to play solid defense against a superb Schiffman backcourt. This game will prove that it is difficult to guard Nichols, Schiffman, and all the athletic players on Team Schiffman while they share the court. We see Schiffman coming out on top by a hefty margin to move to 2-0 and remain atop the power rankings.