Lorde, Dark Pops Rising Star's Newest Album: Melodrama is a hit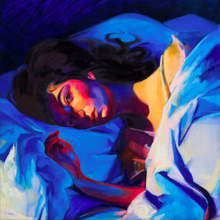 Olivia Quercio
December 3, 2018
Filed under A & E
Hang on for a minute...we're trying to find some more stories you might like.
The 21-year-old rising star from New Zealand puts everything on the table when she writes her music. Her most recent album was entitled Melodrama. This album is most definitely something to pay attention to.
Lorde intertwines a brilliant use of dark and electro-pop to create her music.  The album's songs are crafted beyond the limits of genre: "When I'm making work, I don't think about staying in my genre lane… I feel like that's the cool thing about this record. We finished it… and I said to Jack, 'You realise, I can go anywhere I want now.'"
Every song creates a new atmosphere. Whether it's anger or self-love, her emotions will be revealed by her varying speed in tempo and rhythm accompanied by her unforgettable yet haunting voice.
The standout "edge" pop song on the album "Green Light" did manage to break the top 40 charts, and it potentially may have exposed Lorde again to a new group of pop admirers. Let me be clear, there could be a catchy beat and hooks but make no mistake, the emphasis is on lyrics and interpretation with Lorde.    
Her songs "Liability" and "Writer in the Dark" touch on the loneliness of a young rising popstar and how important it is to incorporate self-love. In "Liability" Lorde explains how at the end of the day she can 'dance on her own': "We slow dance in the living room but all that a stranger would see is one girl swaying alone stroking her cheek"  This message is important for young girls to understand how vulnerable you become as a pop-star and that it is not all perfect.
Then she has love songs like "The Louvre" and "Supercut," which are full of metaphors where she reminisces on her past relationships and brings out the good. In Liability, Lorde reflects on her past relationship, "Because ours (are the moments I play in the dark) We were wild and fluorescent, come home to my heart." Her raw and unedited voice becomes the focal point of every song.
Although these topics touched on seemingly mature ideas Lorde reminds us of her age in songs like "Sober", "Sober ll", and "Perfect Places". These songs deliver a wonderful story on substance abuse and how problematic it's become in our society among teens looking to have fun.
In interviews, she explains how she has watched friends slip down the slope of alcoholism and drug abuse.  She beautifully mixes upbeat tones with serious topics to draw in a younger audience. The core of these songs is truth in today's pressure with teens.   
Then we have one of my all-time favorite songs "Hard Feelings/Loveless". Although not obvious as first listen, this song is two songs stuck together. In "Hard Feelings" we hear Lorde's cry to lessen the impact of a breakup to not be so harsh: "Now I'll fake it every single day 'til I don't need fantasy, 'til I feel you leave"
In "Loveless" Lorde explores the darker side of the break up which is more bitter and commonly expressed in pop music: "Bet you wanna rip my heart out Bet you wanna skip my calls now Well guess what? I like that."
The song describes emotions to girls going through break-ups and identifies commonalities, so we all don't feel alone. I feel as though this song draws in the "dark pop" listeners and the "pop" listeners to common ground.
In Lorde's most recent album she develops common ground for people by discussing topics not touched upon in today's pop music. She creates a safe haven for teen girls to feel all emotions. This album is definitely something I would highly recommend. The album allows adults to reminisce, teens to explore emotion, and all to enjoy.
Sources used:
http://top40-charts.com/songs/lyrics.php?sid=45362&string=Green%20Light
https://www.nytimes.com/2017/06/16/arts/music/lorde-melodrama-review.html
https://www.nme.com/features/lorde-interview-2017-melodrama-nme-2088564#zTqS8tbVUegTwy0J.99