Boys Indoor Track Preview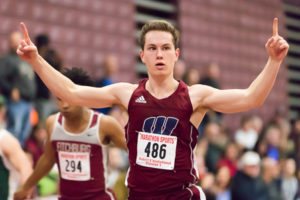 Adam Dapolite '20
November 29, 2018
As the winter sports season goes into full swing, there is one sport that is often overshadowed by the success of the basketball and swim teams. The WHS boys indoor track team has gone undefeated for almost 20 years and has been going to the league meet for 18 consecutive years.

Though the team lost key seniors such as Kyle Strachen, Isaiah Powers, and Eugene Meleskevich, as well as distance runners Derek Pittorino and Brett LeBow. However, Coach Jeremy Nute is confident the team will be able to rise to the occasion, despite the graduating seniors.

"

"

We did lose a lot of good athletes last year, however we have new seniors that are stepping up to fill those roles and we have a lot of good talent on the team that is being developed"

— Jeremy Nute

," remarks Coach Nute.

Since Strachen and Powers were both hurdlers and Meleskevich was one of the team's top sprinters, short distance will be hurt the worst by the seniors' departure. Another blow to the current sprinting squad has been the devastating injury of junior Ethan Clark in the heart of his football season. Clark holds the school records in the 100m dash, is in the top 3 for the 200m, and was a key part of the successful 4×400 relay team.

This season Clark was hoping to claim the top spot in the 55m dash, until he blew out his knee, tearing his meniscus, ACL, and MCL. He just underwent surgery that will keep Clark out of action for the entirety of the winter season, and most likely the spring season, as ACL recovery is a minimum of six months.

In regards to his injury, Clark says, "Rest and recovery are my main focus right now so that I can get back to competing as soon as possible."

With all the indoor track team is missing, it can be hard to forget the athletes the team still has. Senior captains John Pashapour, Zach Arneth, and Tommy Riela are picking up right where they left off last season. All three said they hope to put their names into the school record books this year, while training the future leaders of the team along the way.

These future leaders include juniors Brady Lin, Tim Barry, and Jeremy James. When asked about his goals for the team this season Barry set his sights high, "Go undefeated and win states."

 So whether losing members through injury or graduation, it has not been an easy start for the indoor track team. The team does remain as optimistic and as determined as ever. Is a league title within reach? Only time will tell. But if the team performs like it has in the past, they could do serious damage in the Mid-Wach Division.  

The first meet is Saturday, December 8, against Marlborough High School at Fitchburg.