The Spoon: A Tasty Breakfast Spot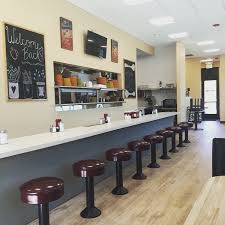 Corina Gencarelli
November 21, 2018
Filed under A & E
Hang on for a minute...we're trying to find some more stories you might like.
If you're looking for a  breakfast place beside the Westborough regular spots, take a short trip over to Hopkinton to The Spoon.

The Spoon is a popular breakfast diner over in Hopkinton that also serves lunch, dinner, and ice cream during the summer.

Their breakfast menu includes typical breakfast classics, made up of your choice of bacon or sausage along with eggs cooked to your preference with a side of toast and homefries. Along with breakfast classics, they serve breakfast burritos and sandwiches. They also have different eggs benedict, omelets, pancakes, waffles, and french toast.

Along with breakfast, they serve lunch and dinner daily. On the lunch menu, they serve anything from sandwiches and wraps to soups and salads. For dinner, they serve meat options, fish options, and also soup and salads.

My personal favorite is the Breakfast Grilled Cheese which is a combination of grilled cheese with sliced tomato, bacon, avocado & a fried egg on your choice of bread. It is a great combination of both breakfast and lunch.

I also really enjoy the Churro Waffles which are waffles topped with vanilla ice cream and coated in cinnamon sugar. This is more of a sweet dessert rather than a breakfast meal.

For the multiples times I've been, their customer service has been great every time. There has been little to no wait time and all of the workers are very friendly.

Their hours are Monday- Saturday 5:30 am – 2:30 pm except for Friday nights which is 4:00 pm – 8:00 pm. On Sundays, 6:00 am – 2:00 pm.

The Spoon is located on 1 Lumber Street #102 in Hopkinton, MA.