Splurge or Save: The Longchamp Le Pliage Tote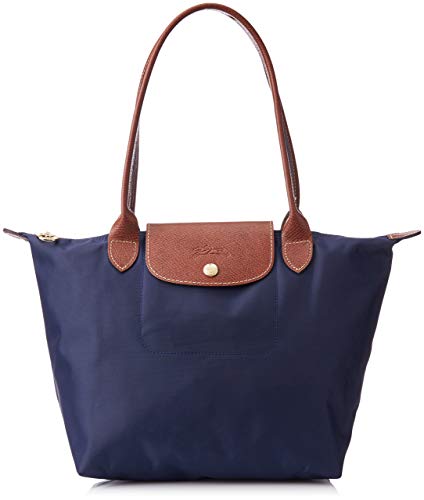 Hang on for a minute...we're trying to find some more stories you might like.
By:  Holly Carew '20
You may have seen people carrying around these blue bags on testing days, like midterms and finals, or even anywhere outside of school. From school to the mall to concerts to parties, and even to the gym, these bags are seen everywhere. They're called Longchamp bags, and they are extremely popular among teens and adults alike this year.
Longchamp Paris is a French brand that was started in 1948,  70 years ago. Jean Cassegrain started the brand with his son, Phillippe, as a way to sell leather goods "to both the international clientele wandering along the Grands Boulevards and to the Parisians frequenting the theatres of the capital." (www.longchamp.com)
The family-owned brand sells both women's and men's bags, small leather goods, such as wallets, luggage, clothes, and shoes, but their most popular item by far is their Le Pliage tote bag, which comes in both small and large sizes and in a wide variety of colors.
The popularity of the Le Pliage tote can be attributed to a couple of factors. One is that the sturdy nylon exterior of the bag allows it to have a multitude of uses, making it the easy, everyday bag that so many people want. The bag is also waterproof, which means that you don't have to worry about it getting ruined from the water. This feature also makes it a great beach bag, adding to it's already amazing versatility.
Another factor that has largely contributed to the Le Pliage tote's success is its style. This year, the minimalist movement has really taken off, and the popularity of this bag really reflects that. The two-toned design of the bag with a solid color on the bottom and leather handles offers classic contrast while not being too over the top. The consumer also has a large number of choices in what the product looks like, specifically the 10 different color options, but while still keeping the simplistic look and feel that so many people desire.
This bag is clearly the perfect everyday accessory that works for almost anyone, but there is just one problem with it: the price. The Longchamp Le Pliage Tote comes in both a small and large size, the small bag retailing for $125.00 and the large bag retailing for $145.00.
While these prices are completely out of the range for most people's wallets, all hope is not lost. There are many alternatives to this classic on a wide variety of websites, including Amazon. These alternatives look almost identical to the Le Pliage tote, making it the perfect substitute for the tote. One of these similar bags would be the Bekilole Nylon Tote Bag, which can be found on Amazon.
This bag looks almost indistinguishable from its high end equivalent, and it comes in 18 colors, 8 more than the Longchamp version, allowing the consumer to have even more say in what their bag looks like- and they are up to $126.75 cheaper.
The Bekilole bag retails at anywhere from $14.25 to $18.25, making it a much more cost-effective version of the Le Pliage tote.
Although the Bekilole bag is a less expensive version of the Le Pliage Tote, you may be sacrificing quality to buy it. It might be more cost effective to buy one expensive bag that will last longer than to buy a less expensive bag that will break really fast. But whether you splurge or save is in your hands!
Sources Used:
https://spy.com/2018/style/womens-style/alternatives-to-longchamp-tote-bag-le-pliage-96780/
https://www.amazon.com/BEKILOLE-Fashion-Waterproof-Shoulder-Strap/dp/B076JCSDY6/ref=sr_1_1_sspa?ie=UTF8&qid=1540478469&sr=8-1-spons&keywords=bekilole+women%27s+stylish+waterproof+tote+bag+nylon+travel&psc=1