Uhlman's Fall Treats: Try the Pumpkin Oreo Ice Cream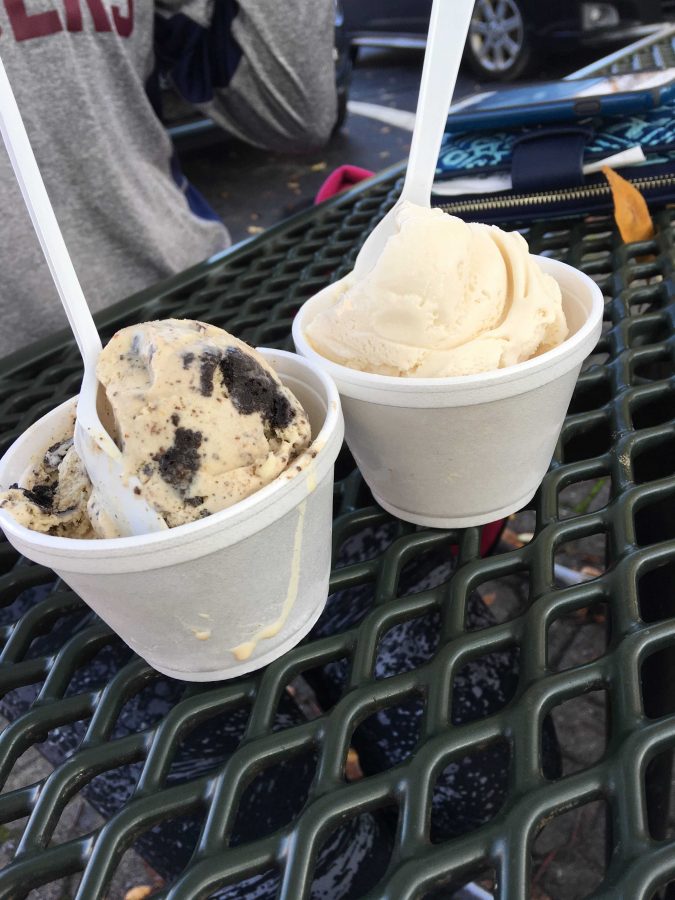 By: Miara Sasdi and Corina Gencarelli
Do you ever crave a refreshing treat on a delightful autumn day? Well if so, stop by Uhlman's Ice Cream to try their fall seasonal additions.  Their fall ice cream flavors include Pumpkin, Pumpkin Oreo, and Dutch Apple. In addition to their flavors, they have an Apple Cider Donut Sundae, Frozen Apple Cider beverage, and Warm Apple Topping.
To get a taste of each we ordered a kiddie of the pumpkin oreo and dutch apple as well as the frozen apple cider. For one kiddie it costs $4.01 and a small frozen apple cider costs $3.58.
The Dutch Apple consists of a vanilla base with a subtle apple spice taste and small apple chunks. We found it to not be very flavorful, but a refreshing treat.
The Pumpkin Oreo was our favorite as it was creamy and had an exceptional pumpkin flavor.  And the addition of the Oreos brought it to a whole new level.
The frozen apple cider was snow-cone-like as it was a drink with cold apple cider mixed with slushed ice.
Although the weather is beginning to cool down from the summer, Uhlman's is still a great place to visit in the fall. We went on a weekday evening when it was warm outside with a breeze and there was the sight of leaves changing colors. Without the summer crowd, it is a peaceful atmosphere to enjoy your ice cream.
Uhlman's fall hours are 11am-9pm. Their closing date this fall is Sunday, October 28, ending the season with their first annual closing day bash with a Trunk or Treat. Make sure to visit Uhlman's before it closes to taste their fall specialties.