You Should Phở Sure Come Here!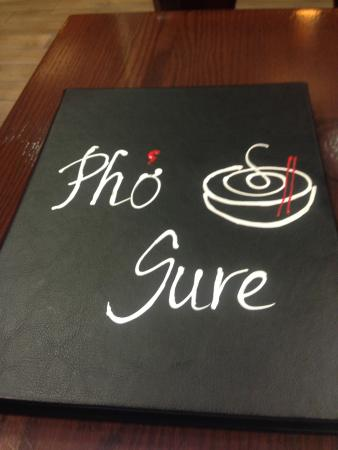 October 11, 2018
Filed under A & E
Hang on for a minute...we're trying to find some more stories you might like.
In the White City Plaza of Shrewsbury, there lies a small but very popular Vietnamese restaurant by the name of Phở Sure. Since opening in 2015, Pho Sure has accumulated 4.5/5 stars on Google Reviews. Not only does this place constantly have customers in and out of its doors for the delicious food, specifically their trademark, pho, but they have a popular bar for specially made bubble tea.
A lot of people enjoy coming in during the cold weather because of their various hot foods and soups, but I personally believe it's good at any time of the year. Be careful though, the restaurant becomes extremely busy at peak times (lunch and dinner time) and the table-to-customer ratio changes drastically.
One great alteration that they have made recently is that people can now make reservations ahead of time. Instead of waiting in the painstakingly long line if you have a large party, calling ahead would most probably be the best option. Besides the long line, the staff is extremely helpful and friendly. The owner, Cynthia, can be found smiling and communicating with her valued customers daily.
So, what is "pho" anyway? This is the restaurant's brief history: Phở or pho is a Vietnamese noodle soup consisting of broth, linguine-shaped rice noodles called bánh phở, a few herbs, and meat, primarily served with either beef or chicken. Pho is a popular food in Vietnam and the specialty dish of a number of restaurant chains around the world. Southern Vietnamese eat it for breakfast and occasionally lunch, whereas those from northern Vietnam consume it at any time of day.
At Phở Sure, there are various options to choose from in terms of this dish: specifically up to eleven! The large "Sure Special Bowl" consists of the famous beef broth, noodles, and meats. The rice noodles and soups come with a side of bean sprouts, basil, jalapenos, and limes. On top of the popular noodle soups, there are many appetizers; some popular ones are the fresh summer rolls, double fried chicken wings, and vietnamese sandwiches. The menu is four pages long, so the choices are endless whether it's an entree or an appetizer. Not to mention, there's a vegan/vegetarian section for those who have restricted diets!
The drink selection is also very impressive; people can order smoothies, juicy teas, or milk teas and add any toppings for a small cost. Chewy tapioca balls, popping boba, fruit jelly, grass jelly, agar jelly, and puddings are often added as toppings.
Make sure not to mix up the pronunciation of this popular dish— the food itself is pronounced "f-uh", but the restaurant's play on the word causes many people to say "f-oh" instead. Aside from this, anyone can walk into Phở and enjoy a nice bowl of pho.
Contact
114 Boston Turnpike
Shrewsbury, MA 01545
(508) 425-3314
Hours
MON

TUE

WED

THU

FRI

SAT

SUN

11:30am – 9:00pm

11:30am – 9:00pm

11:30am – 9:00pm

11:30am – 9:00pm

11:30am – 10:00pm

11:00am – 10:00pm

11:00am – 9:00pm