J Cole's KOD- Review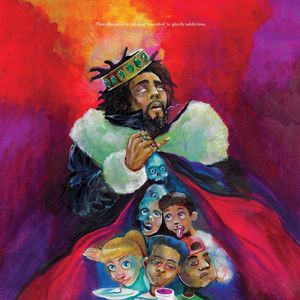 Hang on for a minute...we're trying to find some more stories you might like.
By: Jon Khoury and Jack Slocum
On April 20, 2018 J. Cole dropped his fifth studio album KOD through Dreamville Records, Roc Nation, and Interscope Records. J. Cole announced this project a mere four days prior to the release. However, just a day before the official release, J. Cole released the album's trailer, in which Cole broke down the meaning of the album title.
The initials KOD contain three meanings, all of which are prevalent throughout the album. The first meaning "Kids On Drugs", according to Cole, refers to how "If I turn on the TV right now, it's not going to be long before an advertisement pops up that says 'are you feeling down? Have you been having lonely thoughts?' And then they shove a pill in your face"
The second meaning, "King Overdose", represents J. Cole and the times that he was afflicted by the same methods of escape, including alcohol, phone addiction, and women.
Lastly, KOD's third meaning "Kill Our Demons" represents breaking free of past trauma. To face our issues and realize that we all have issues going on inside. The first response to any problem is to medicate. Kill Our Demons, in Cole's mind, is addressing this issue, whether it be from traumatic childhood experiences, a lack of attention, confidence issues, or insecurities. Afterwards, "Look in the mirror and ask ourselves questions, like what's causing me to run to this thing as an escape? And once I find the root of that, let me look it in its face an see what it really is" said J. Cole.
The album's tracklist includes: Intro, KOD, Photograph, The Cut Off (Ft. ​​​​​​​​​​​​​​​​​kiLL edward) , ATM, Motiv8, Kevin's Heart, BRACKETS, Once an Addict (Interlude) , FRIENDS (Ft. ​​​​​​​​​​​​​​​​​kiLL edward), Window Pain (Outro), and 1985 (Intro to "The Fall Off") in which he discusses topics such as drug abuse, addiction, depression, and African-American culture.
Tracks FRIENDS and The Cut Off feature Cole's alter ego, kiLL edward. This alter ego is a deep, distorted version of Cole's voice. KiLL Edward has been seen once before in "his own track" titled  "Tidal Wave"; however, the track did not feature "J. Cole". At this time, fans hypothesized that kiLL Edward was the same person as J. Cole. KOD was Cole's first project officially introducing this alter ego.
KOD debuted atop the US Billboard 200, selling 174,000 copies in its first week, earning Cole his fifth consecutive number-one album in the country. Notably popular tracks include Kevin's Heart, KOD, 1985, and ATM.
Despite the overwhelming success of the album, Cole faced an issue like never before from this project. Fellow rappers such as Lil Pump and Smokepurpp rallied fans to spread hate on the album. One of the album's main topics was the current state of the rap industry, in which young rappers at ages 17 and 18 are promoting drug use. In Cole's song 1985, he spoke out against it. As a result, rap fans clashed upon who the better artists were. At rapper Smokepurpp's Atlanta concert, him and his fans broke out into chants using explicit terms against J. Cole. Afterwards at J. Cole's Dallas concert, fans broke out into similar chants against 6ix9ine and Lil Pump while Cole performed 1985. However, Cole immediately shut down the chants, announcing "Don't do that."
Regardless of the controversial views, Cole's fifth studio album was yet another success. The use of ad libs, catchy choruses, and punchline-filled verses collaborated well with the powerful beats to produce a well crafted and entertaining album. The album provides the best of both worlds with "Turn-Up" songs as well as songs containing deep lyrics. J. Cole continues to stay true to his roots and produce popular music without following the trend of "mumble rapping."
Rating: 9/10