Sushi Station: an Inexpensive, Hidden gem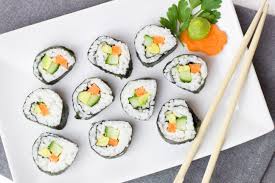 Hang on for a minute...we're trying to find some more stories you might like.
By Emily Bruck and Audrey Soukup
Are you looking for ridiculously inexpensive yet satisfying sushi outlet in our very own town? Located on 72 MA-30, just a short 15 minute walk away from Westborough High School is a small complex housing this hidden gem. We believe that Sushi Station is a great hole-in-the-wall restaurant, with good food and a peaceful, calm environment.
Westborough's Sushi Station is a small pub-like restaurant that serves good food. It is located near the center circle of Westborough, and across the street from the Bagel Bistro and Rhythm Dance Company. Most would call this a perfect location for it is easy to get to and a quick walk from many schools and workplaces in the area. This restaurant sells sushi and other Japanese cuisine. However, some probably wouldn't agree with the heavy term "cuisine" as Sushi Station doesn't sell fancy sushi that costs a lot. Overall, the existence of such an easy, cute, and inexpensive restaurant is appreciated and liked.
Upon entering the small building, we were immediately greeted by a friendly face. Although the complex itself is a little bit of an eyesore, the enthusiastic staff with amazing customer service more than made up for it. The menu had a variety of sushi rolls such as the California and the Philadelphia roll. There were also plenty of vegetarian options to suit the needs of all. If you aren't looking for sushi, they also have items such as edamame and miso soup. On the drink menu were the classics such as Sprite and Coke as well as some authentic drinks such as iced green tea. The prices were surprisingly reasonable for such great quality food. The average roll at Sushi Station was around $5.00. However, the prices went up to around $8.00 for specialty rolls.
Overall, in our opinion, Sushi Station is good, but not exceptional. However, it is believed that the intention of such a hole-in-the-wall place is not to be expensive nor fancy, but more along the lines of easy, inexpensive, and enjoyable. Some reasons why we liked the experience at Sushi Station is the friendliness of the staff right when we walked in. The owner of the restaurant welcomed us and took very good care of us.
Another reason that we enjoyed Sushi Station is the responsibility of the chefs making the food for their customers. Our friend who is allergic to shellfish came to Sushi station with us with the intention of ordering a vegetable roll like she has at other sushi restaurants to avoid her allergy. When she explained her allergy and the seriousness of it, the waiter wrote it down, and made sure that her roll was made first. She ordered a cucumber roll, and she really enjoyed it!
On the other hand, there are some improvements that could be made to this restaurant despite all of its good factors. Specifically, the bathroom of Sushi Station would be nicer if it were upgraded a little bit. From what we understood, it seemed like there was an apartment on the top floor of the this building, with Sushi Station on the bottom floor, and the small, hardly lit bathroom was almost like the basement of the apartment. It was clean enough, and it didn't make us skeptical about the cleanliness of the food, but it could be improved.
As well as the bathroom, the menu was relatively limited. We believe that if the owners of Sushi Station added more options, they would be more successful (not that the food they have already isn't delicious).
In conclusion, the experience as a whole was a very good one. Although a few minor adjustments could be made to further improve the quality of an experience at Sushi Station, their food and service was on point.