Week 5 rec ball power rankings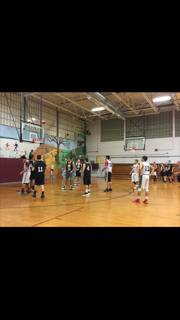 Hang on for a minute...we're trying to find some more stories you might like.
By: Luke McGrath
1. Morin (7-0): Morin looked really really really really strong this weekend. Team Smith came into their game on sunday full of confidence and team Morin silenced them very quickly. Morin was able to jump out to a 20+ point lead in the first half and they never looked back. Their defense was quick and very well coached. They also proved that they can score without Shaw scoring a ton, with only 13 points, Ryan and the rest of the team did a great job scoring consistently. This team probably runs the best two man game in the league and in order for this team to lose, the opponent will need to play a perfect game.
2. Meyer (5-2): Going up against Guilbeau on Sunday, I think a lot of people expected Meyer to blow them out and for Avery to have another spectacular game. While none of that really happened, Meyer still got a good gritty W. They will continue to need MVP type performances from Avery and above average play from Moiz and Kev Ji to keep winning. However, I do not expect them to fall from this 2 spot for the rest of the regular season because of the easiness of the rest of their schedule . This team should be red hot going into the playoffs.
3. Smith (5-2): Overall a pretty tough weekend for team Smith. With the hopes of upsetting Morin on Sunday there is no other way of describing that game then disappointing. Their defense did not look as strong as once thought and they needed a win on Monday night to rebound from getting blown out. Luckily for them, on Monday the defense did not disappoint. In the second half they only gave up a total of 10 points and shut the door on team Mac. The big takeaways from this weekend should be that Cord is going to have to score points to beat Morin and other top 4 teams. They also are going to need the stellar D that they started the season with.
4. Bersani (5-2): I know that some people think that maybe team Bersani should be higher up in the rankings but in reality they have not really proved in anything in the last two weeks. They beat Philbrook last week and then Riela this week, both of which are in the bottom four. The only real positive that has come out of these two games is the development of Ryan French into a solid scorer for this team. He will need to help Correnti out a lot once they start playing better teams.
5. Barry (5-2): After going on a quick two game skid, team Barry had a very solid week. They crushed Philbrook on sunday and then in what a lot of people expected to be a somewhat close monday night game, Barry blew Hillier out of the water. With a full line up, this team is starting to finally reach their full potential. Joe Fitz makes an immediate impact on the boards and also will be able to add a decent amount of scoring. This team should be able to get their momentum going into the playoffs and if they can stay healthy they will be very strong.
6. Vanheest (5-2): No one really expected this team to be here. They did not look very good at all at the beginning of this season. Slowly and steadily Chris and Greg have started to play to their potential and have been able to string together a bunch of wins. This team is yet to prove themselves against a top 4 team, but with a 5-2 record and constantly growing potential, Vanheest looks like they may be coming one of the elite teams in the league.
7. Hillier (4-3): Last week Hillier was finally able to crack the top 5 and had two games in front of them this weekend that if they were able to win, would deffinetly have been able to stay up there. There weekend did not go as planned however. Hillier snuck by a weak Kelley team on sunday and then got absolutely destroyed on Monday. No one could really score against a new and improved team Barry. Stott leading the way with 8 should be troubling for this team and they will need Liu and Eugene to score ALOT more if they want to compete with some of the more elite teams.
8. Ruhl (3-4): It feels like every week team Ruhl puts up a great fight against a solid team and then ends up only losing by a handful of points. There game on sunday is another perfect example. They lost by 3 to Vanheest without Marty. If they keep losing, they will continue to drop but I still feel that this team can make a playoff push and seeing both Mo and Wong with double digit points on Sunday is deffinetly a positive. Look out for this team.
9. Mac (3-4): Team mac had a pretty up and down week. They were able to put up a huge offensive performance with 76 against Khoury and Horsefall and Walthall both looked great. Then on Monday, after playing a good first half against team Smith they collapsed in the second half. They were only able to score 10 points in the second half and more importantly they had a lot of struggles with chemistry. The players and coaches will need to get on the same page if this team is going to beat any team above them in the rankings.
10. Kelley (3-4): Playing Hillier on sunday, I think that Kelley was going into a winnable game that would really help their ranking status. They played a very solid game but still lost the game by 5. The only thing that really matters in this league is getting Ws and this team just does not seem to be able to do that. Polich and Parent are going to really need to step up if they do not want to get bounced in their first playoff game.
11. Guilbeau (2-5): Not the worst weekend from team Guilbeau but as I just stated, winning is everything. Even though they only lost to the number two team in the league, Meyer, by 6, they still did not get the W. This is one of those teams that I feel can still surprise people. They have enough talent in Bongi, Bartlett, Tmac, and Lis to beat a lot of teams in this league so look out for them to still maybe upset somebody this year.
12. Riela (1-6): Riela ran into another top 5 team this weekend and it seemed like the same thing happened that has been happening all year. Vondy, even though he had 32, just cant win a game alone. Riela had a more underwhelming game with only 15. It seems like in order for this team to win against a good team in the playoffs they will need 30+ from Vondy and 20+ from Ben. I'm not really sure if this is possible for this team but they may have the talent to do it.
13. Khoury (1-6): Khoury had another really bad defensive game on Sunday. Letting in 76 points against a pretty mediocre team Mac, is not very good. Their defense will need to get a lot better very quickly in order for this team to have a chance. The only somewhat positive thing to take from this weekend is Komari and Schiffman both scoring double digits and may be able to help Gonzo out with the scoring.
14. Philbrook (0-7): Team Philbrook got crushed on Sunday. They lost by 30 to Barry. This team will not really have any chance against any top 5 teams but maybe if Burke, Barrett, and Jrod all play a perfect game they will be able to beat a middle of the pack team. Not a lot of hope left for team Philbrook but they are starting to become the team that everyone is rooting for just because no one wants to see a team go winless for a full season.