Club Update: DECA's membership up by 200%; Many students placed at 2022 district competition
As just a second year chapter, WHS DECA has already experienced much success, having a 200% increase in membership since last year which has made DECA the fourth biggest club at Westborough High School, and have earned 23 competitive awards at the district competition last month on January 12, 2023. At the district competitions, students engaged in conferences with judges involving role plays, in which they discussed and analyzed business scenarios centered on their specific category.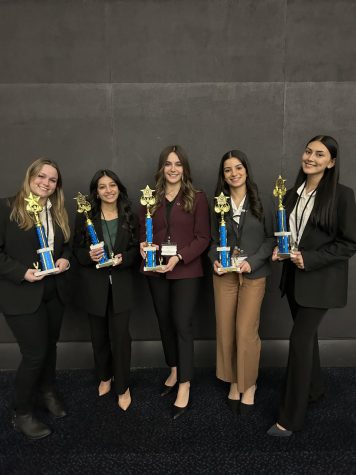 Many students in the WHS chapter placed at the 2022 district competition. 
Trophy Winners:
Abby Mahr- Retail Marketing 1st Place
Yaa Boateng- Principles of Marketing 1st Place
Deeksha Kapoor- Human Resources 2nd Place
Morgan Barber and Daphnne Cabrera- Marketing Management 2nd Place
Manasa Pamujula- Apparel and Accessories 2nd Place
Devasri Damadoran- Marketing Communications 2nd Place
Aisha Ali- Principles of Marketing 3rd Place
Nikita Panwar and Maya Anantaneni- Buying and Merchandising 3rd Place
Medal Winners: 
Abby Kranis and Katie Richards- Travel and Tourism
Robert Gleeson and Anurag Dasgupta- Sport and Entertainment
Aditya Hebar and Xavier Allegretta- Financial Services 
Hansini Iyer and Tanu Pendetti- Financial Services 
Chase Parsons- Accounting Applications
Ella Sung- Apparel and Accessories
Norah Miller- Principles of Business Administration
Vedika Soneji- Principles of Hospitality
Kiro Fahmy- Automotive
This year, 45 of DECAs students qualified for the State Career Development Conference- taking place from March 9 to March 12 in Boston- and 15 students are currently qualified for the international conference. 
In addition to the chapter's success at the district competitions, three of Westborough DECAs officers, juniors Deeksha Kapoor, Abby Mahr, and Devasri Damadoran, are running to be a part of the Massachusetts DECA State Action 65 Team. This position is to be part of the executive team of Mass DECA in order to serve the state and is a major accomplishment for the club! The three officers are currently working on campaigning for their candidacy which will be divided in multiple categories such as social media posts, person to person communication, and running a booth at the state competitions. 
The club has also earned a gold certification for their school based enterprise Rangers Reimagined (SBE) (design company). They have earned above excellence on all core marketing functions–another achievement to add to the list. 
The Westborough DECA chapter has also been recognized on the state and international level for business education advocacy, attended Muscular Dystrophy Association charity events, and built mentor relationships with alumni and community leaders.