The Revlon One-Step Hair Dryer and Volumizer: A Hair Game Changer
This year the Revlon One-Step Hair Dryer and Volumizer is one of the top rated hair tools. It is a two in one dryer and styler, which is an efficient way of achieving great looking hair in a short amount of time. I received one as a gift and I swear by it!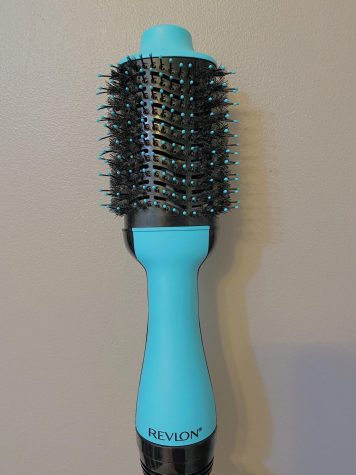 This two-in-one hair tool is an oval-shaped round brush that optimizes volume at the root. The two types of bristles make it easy to glide through your hair. There are three heat settings: cool, low, and high, which add variety and options for the user's hair type. This hair dryer is recommended for hair about 70% dry for best results, though it can be used on wet, or even dry hair if needed. It is perfect for people who are in a time crunch, like myself, as I often am rushing to get ready in the morning!

The versatility of this tool really shines through its ability to work on all different types of hair type, text

"

The versatility of this tool really shines through its ability to work on all different types of hair type, texture, and thickness."

— Kiley Vallee '22

ure, and thickness. I have wavy hair that is long and thick. I use the high heat setting and can dry and style my hair in about 15 minutes. This time saver is a game changer because prior to owning this tool, I had to air dry my hair, straighten it, and then use a curling tool. This process would take well over an hour. Now, I am using less tools in a fraction of the time, which is saving my hair from damage as well. When used on my sister's long, straight, thick hair, the tool worked just as well. It took a little bit longer just because of the thickness of her hair, but looked just as nice! As you can see in the photos, it diminishes frizz and styles your hair super quickly.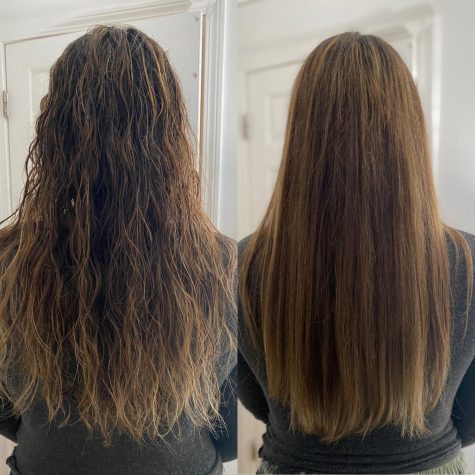 I work in two layers, starting with the bottom layer when my hair is about 70% dry. I first spray heat protectant and brush through my hair prior to using the brush drying tool. I run the One Step Hair Dryer and Volumizer through my hair, rolling the round edges against my hair over and over to ensure it is taut and retaining its shape. I let the brush go through the ends of my hair so that the ends have a blow-out look to them. I continue this process until the whole bottom layer is dry. I start on the top layer of hair with the same techniques. I go through the back extra to add volume and do the front pieces so they frame the sides of my face. I have a completed look without frizz in 15 minutes!
Retailing at $41.88 on Amazon, $56.99 at Target, and $59.99 at Ulta, you are saving loads of money instead of getting your hair done professionally, which can cost you from $30 to sometimes over $50 per blowout.
Anyone considering a new hair tool, regardless of your hair type, I say the Revlon One Step is totally worth it! With all factors including price, the amount of time it takes, and quality, it's a hair game changer.