Running Through Mrs. Glenn's Life
Whether you know her as Mrs. Glenn, the therapist, or Coach Glenn, the cross country coach, she is known to many students at WHS as a mentor. She never thought that teaching in a high school would be for her, but was pleasantly surprised seven years ago when she began her career.
Mrs. Glenn is a school social worker in the Center for Student Success (CSS) program. She works with students who have been absent for extended periods of time and provides them with a space to catch back up academically and emotionally. Mrs. Glenn's favorite part of her job is how she gets to meet many students, which makes for an exciting day, every day.
While therapy is a passion of Mrs. Glenn's, running is a close second.
"My dad started me really early, although there have been times I didn't like that, I am so thankful for him to have taught me to run at such a young age because running has always been a big part of my life," Mrs. Glenn shares.
Learning to run at age three, then competing at age five, it just became part of who she was. Mrs. Glenn ran through grade school and was a three-season runner in high school. While in high school, cross country was her favorite season because of the team aspect; however, she was the best at the 1000m, which is an indoor event.
Mrs. Glenn's love for the cross country team atmosphere led her to where she is now. A cross country coach at Westborough High School. Coach Glenn has shared her passion for running with so many and somehow finds a way to make people as excited about it as she is.
This year she took on a new challenge of being the head coach. She was quick to say yes when asked to take this position because of her love for the sport. With so many responsibilities being a head coach, Mrs. Glenn has found it a challenge but rewarding at the same time.
In previous years, she was the assistant coach to Rick Hebert, who is taking the year off to stay safe and healthy. The two of them made a fantastic duo, leading the team to many victories over the past several years. She has been the assistant coach for six years. Coach Glenn enjoys seeing students grow both academically and athletically through all four years of high school.
The therapist in Mrs. Glenn shines when giving advice to her runners. While PR's (personal records) are exciting and a great goal to have, Coach Glenn has taught her athletes that obsessing over paces, splits, and PR's could diminish the other aspects of running.
Coach Glenn is all about helping her athletes focus on having a healthy relationship with running. Cross Country senior captain Maddie Reinach has learned so much from the help of Coach Glenn.
Reinach states, "Coach Glenn helped me to stop self-sabotaging by keeping me positive and showering me with quotes about comparison and healthy versus unhealthy competition. After three years of cross-country, I can finally let go of the "pre-race scaries" and obsessions with PR's. Thanks to her help, I can actually run happily now."
Coach Glenn really has the best of both worlds. Coaching combines her love for working with people with her passion for running.
When she's not in school or coaching, you can find Mrs. Glenn at the beach, running with her dog Jasmine, or just taking a hike on the beautiful trails of Westborough. She really enjoys being outdoors and will travel any opportunity she gets. Mrs. Glenn is a true New Englander, lover of the Cape, but can change things up and hike around in the New Hampshire mountains.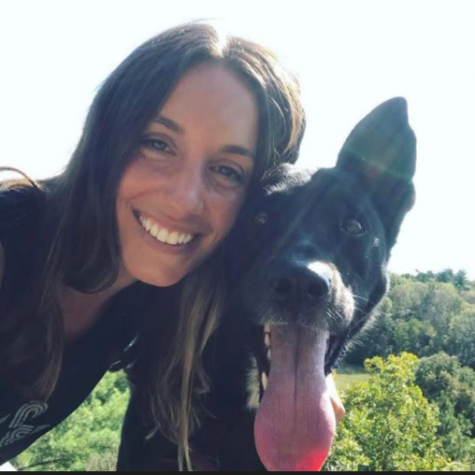 Overall, Mrs. Glenn is a really cool person, and she'd love to listen to you anytime you want to talk.