Lobby-O Staff Reviews Mooyah: A Great Dining Experience
Back in March, The Lobby Observer staff took a trip to Mooyah for lunch to try out some of their new and traditional menu items. Since The Lobby Observer reviewed the Northborough restaurant a few years ago, there have been a couple of changes.
One of the most recent additions to the menu is their vegan burger. Mooyah has always had a veggie burger, but they recently changed over to Dr. Praeger's Vegan. The chain restaurant did this so they can be more in line with what customers really want.
Northborough store manager, Kelsey Silverio, explained, "It's actually one of our most popular burgers. It's really flavorful for the fact that it is made out of quinoa and vegetables. People love it. I eat it more than I do anything else in the restaurant, I think it fills me up a lot more than a burger."
Other burgers that are popular at the Northborough location include the Indulgent Barbecue and the Mooyah Double Cheeseburger. The Indulgent Barbecue was originally a limited time offer when it came out a few years ago but it sold so well that it was added to the staple menu in Northborough.
With the Mooyah Double Cheeseburger, Silverio stated, "It is a standard, it's our favorite, it's what we grew off of so that's a big contender."
Westborough High School senior Corina Gencarelli shared about the visit, "I ordered teh cheesburger with lettuce for the bun. I really enjoyed my meal and found it to be refreshing having the lettuce as the bun and not too heavy of a meal. The french fries were great as well."
The milkshakes are also a very popular item with over 7 different flavors.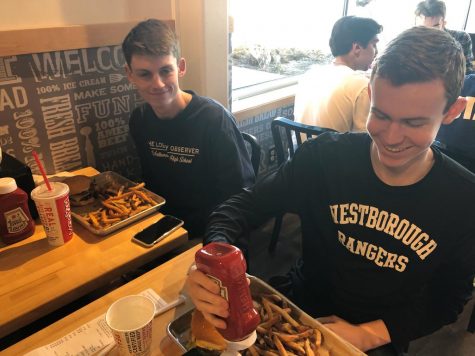 Silverio revealed that a staff favorite is, "hands down the Coffee Oreo Milkshake. If any customer ever asks me what shake to get it's a coffee oreo and I stand true to that."

Westborough High School junior Cam Erikson commented, "I've always been a fan of Mooyah, so I enjoyed it

"

Westborough High School junior Cam Erikson commented, "I've always been a fan of Mooyah, so I enjoyed it [my meal] as usual. I thought it was a great experience."

— Westborough High School junior Cam Erikson

[my meal] as usual. I thought it was a great experience."

The biggest changes and improvements Mooyah has made since their opening in 2016 is their delivery service and app. For delivery from the Northborough location the restaurant has partnered with all major third party delivery companies, some of which include GrubHub, DoorDash, and UberEats. Mooyah is closely partnered with DoorDash as customers can order straight from Mooyah's website or app and DoorDash delivers for them.

Mooyah has also built a fan base where they can track customers on their app in order to calculate their guest return rate which is the number of people who are new guests and how frequently they come back in a certain amount of time. In Mooyah's app customers can easily place orders, view promotions, and track rewards. The rewards program allows customers to scan their receipts, and for every 100 points earned, which is equivalent to $100 spent, they receive $10 in rewards. The first time a customer downloads the app they will get an order of free fries. The app is very user friendly and there are always new deals being promoted.

Silverio remarked, "It's a good legit way to get Mooyah all the time at a discount."

The Lobby Observer staff thoroughly enjoyed their experience at Mooyah. The staff is very friendly and they have a variety of menu items to choose from. Service is also quick and the restaurant has a casual atmosphere where customers are not rushed since they get their food before sitting down.

Since the pandemic, Mooyah has continued to stay open and continues to offer rewards and promotions on their app. They do both delivery and curbside pick up. Their promotions change daily, but they are currently offering $3 off a $10 purchase and $5 off a $25 purchase. The Northborough store is open daily for To-Go and Delivery 11 am to 8 pm at 10010 Shops Way.