The Game of Relentless Pursuit
Global outrage spread rapidly during the pandemic in response to the delaying, rescheduling, and cancelling of athletics. Athletes of all ages are suffering without their sports during this already difficult time, and limiting what they can do to practice to just activities at home is frustrating. That being said, if athletes can find safe ways to practice their sport while following their federal and state social distancing guidelines, there is hope.
I am a three-season athlete playing school volleyball in the fall, club volleyball in the winter which leads into the spring, and track in the spring. I also play non-competitive beach volleyball in the summer. My club season begins in early December and ends in early May. COVID-19 became a relevant threat to my club team and I when we went to a crowded tournament which was played in the Boston Convention and Exhibition Center in Boston, Massachusetts. Simultaneously, there was an outbreak at an international convention held at a separate hotel in Boston. As a precaution, our coaches had us wave to our opponents prior to our matches. That was the weekend of March 7. By that Wednesday, our club season was postponed, later to be cancelled, and that Friday was our last day of school.
It was a shock to have our season just end so quickly. Typically there is an end date for club seasons, so there is a period to wind things down and brace ourselves for the end. But our season abruptly halted at about the halfway point, robbing us of approximately half of our tournaments.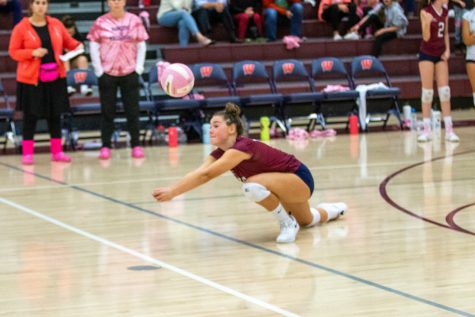 At the start of quarantine, I didn't know how long this was going to last. I was hopeful the season would be pushed back or salvaged in some way. But as the number of cases and mortalities continued to climb, I knew that wasn't realistic. With school season only a few months away, summer had previously been my dedicated volleyball time. Now that I'm stuck at home and my club season has been cancelled, I decided to hold my own practices and conditioning to continue progressing in my athletic career.
Normally, I lug my santa-like bag of volleyballs into my wheelbarrow, and relocate myself around the outside of my house as I work on different drills. For passing (also referred to as "bumping") practice, I use my chimney as a flat wall to throw the ball against as opposed to passing a serve or digging a hit by the opposing team in games. Next, I mosey down to my driveway where I practice my swings for attacking (also known as spiking) by hitting the ball down to the pavement with it then bouncing back to me against the garage. Finally, I practice my setting by using an old basketball hoop as a target.
I've been running for endurance, working on strength training, and also improving my agility for conditioning, which looks fairly similar to what we'd typically do in practices. As for the rest of it, it is less than ideal. Training is rigorous in it of itself, but having to undergo it alone without the support of your teammates and coaches truly tests one's drive and passion for the game.
The primary notion that runs through my mind and motivates me to relentlessly persist each day is the hope of a school season in the fall. Despite the fact that people are now unsure if there'll even be a fall season, I will continue my make-shift practices. Not only does volleyball give me purpose, but it also provides me with joy, accomplishment, and skills that will last me a lifetime. I encourage all athletes to discover ways to continue improving for your sport, whether it be physically, tactically, or mentally.