Mario Kart Tour Game App Excites Mario Fans
September 25 marked the date that people could start playing the new game officially called Mario Kart Tour on the mobile app found on the iOS or Android's Google Play. The app store has had Super Mario as an available game to play for a few years now, but no one has ever been able to play one of Nintendo's best games Mario Kart in the palm of their hand. 
The game was announced a while ago, and was delayed for release for a few weeks. Nintendo allowed consumers to pre-register for the game three weeks in advance. 
The game brings all of the amazing features of the Wii version to the smartphone. Rainbow Road, Mario Circuit, and Koopa Troopa Beach are just a few of the courses that have carried over to the app.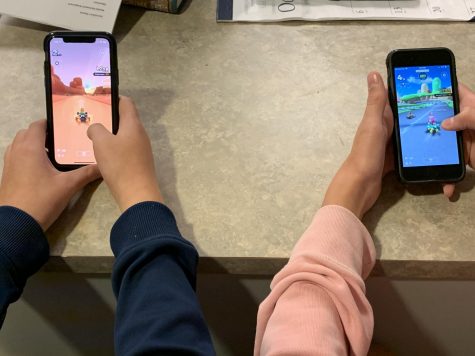 The game also adds new features such as the ability to unlock characters by earning coins. One can upgrade characters, carts, and gliders, as you move through the levels and earn badges to display on your Nintendo ID. 
"It's a good game, and I like how you when you finish a level they give you a gift," sophomore Julia Demian remarks.
One of the biggest questions from consumers was if you could play against friends. Nintendo did not disappoint, as they allowed you to add friends on the app and try to beat them on the new weekly leaderboard. You are not able to race against them, but we are hoping that is a new feature for the future! 
Avid Nintendo and Mario fans are very pleased with the game. Junior Owen Kelly, a player of the game states,"It's pretty good. It's good for a mobile game."
Henry Pittorino, a sophomore at WHS, is holding a Mario Kart tournament on November 21 at 3pm in the WHS gym.  This tournament shows how Mario Kart Tour, the new mobile game, has brought back one of the best games to the world, Mario Kart.