Author A.S. King Inspires Young Writers at WHS
On Thursday, October 10, award-winning YA author A.S. King visited the WHS library to speak with students about her career, inspiration, and the writing industry. She writes young adult fiction about real life. Some of the topics featured in her books include bullying and mental health. 

"I want to shine a ligh

"

"I want to shine a light on the things we ignore."

— A.S. King

t on the things we ignore," King explains. 

She especially loves her books that people, primarily teenagers, can relate to. 

When talking about her book I Crawl Through It, which she says is her favorite, she comments, "It's the book I get the most letters from young people about… For some reason, teenagers relate to it." 

King decided that she wanted to be an author in eighth grade. After years of writing, she was eventually published.

"I was finally published when I was forty. It took me eight novels over fifteen years," King states.

To aspiring authors, she encourages resilience. She admits that the industry is cut-throat, but tells young writers to continue writing. 

"Your first book may not be the book," she says. "It could be your third book. You have to just keep working. Read a lot, write a lot."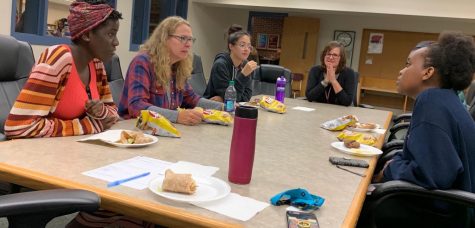 She suggests that writers find something to write about that they're angry or passionate about  because "that means you're not going to lose interest."
On the environment of the writing industry today, King says, "At the moment it's cool in children's publishing to see how it's changing to finally include diverse voices." 
She describes excitedly how the writing industry is becoming more inclusive of all different races, genders, and sexualities.
"In high school basically we're all taught to read about white men," she remarks. "Now in children's literature, it's just kind of exploded and it's been really wonderful to be able to see just so many diverse voices whether it's LGBTQ, whether it's African American voices, whether it's refugee voices, whether it is immigrant voices. We're seeing a lot more literature so that everybody is being mirrored in books," she concludes.
Students who met King were touched by her kindness and down to earth nature, and strongly impacted by her words of inspiration. 
Junior Cristina Vargas comments, "She was very honest and treated us like adults instead of children. She helped me feel more confident in the choices I want to make for myself later in life."