Detective Dapolite: "Above and Beyond in Everything He Does"
Matt McCarthy '19, Co-Editor
June 7, 2019
Hang on for a minute...we're trying to find some more stories you might like.
Anyone who has come through Westborough High School knows that there is a certain set of faces you can expect to see almost everyday, one of those faces is Detective Chip Dapolite, WHS School Resource Officer (SRO). For the past 24 years Detective Dapolite has been working as a  patrol officer, resource officer and now detective for the Westborough Police Department, and interestingly, his time in town dates back to his childhood.
Dapolite was raised in Westborough and graduated from Westborough High School in 1988.  He then attended college at Suffolk University studying Criminology. Becoming a police officer wasn't something he initially intended to do as he shares that he switched his major a few times over the course of college before finally finding his calling.
After graduating from college in 1992, he found his way back home and joined the Westborough Police Department in 1995.
Given his background, Dapolite has a unique perspective on the town of Westborough and, more specifically, Westborough High School.
For example, the past year has brought some major changes and updates to WHS, one most notable is the addition of the lights to the lower turf field.  Dapolite has nothing but positive words for the updates, "It's a great addition for the community as a whole, even outside of sports the lights provide a place for people to walk all times of the year."
Each sports team for the coming years will have at least a few games under the lights, which provides a number of possible town events that have been packed into a one week span in years prior.
It is also evident that  Dapolite has high hopes for the town and looks forward to its future. "We are at a point right now where human interaction is huge. The more we can get out of the house and spend time as a community, the better."  
It's this positive mindset of  Dapolite that solidifies him as an important figure in town. He wants the best for Westborough in the future and will do whatever it takes to make that happen.
His presence and efforts have not gone unnoticed by students in the schools who have enjoyed working with Dapolite. WHS junior Miara Sasdi comments, "Detective Dapolite is always so approachable and willing to help. He goes above in beyond in everything he does. As a student, he has helped me with a project and helped to provide me with lots of resources and opportunities. I am so grateful to have him as our school resource officer."
His peers also agree.
WHS Assistant Principal Matt Lefebvre states, "Detective Dapolite is thoughtful, funny, and always has the safety of our school community in mind.  He has been essential in helping us plan and prepare for intruder drills, and we are very fortunate to have him as our school resource officer."
"
"Detective Dapolite is thoughtful, funny, and always has the safety of our school community in mind… ""
— Assistant Principal Matt Lefebvre
This past year Dapolite earned his second nationwide award that is voted on by his peer officers around the country. He said receiving the award was obviously a huge honor and he is extremely excited to continue his work in the schools, but "It's the kids here that make me look good."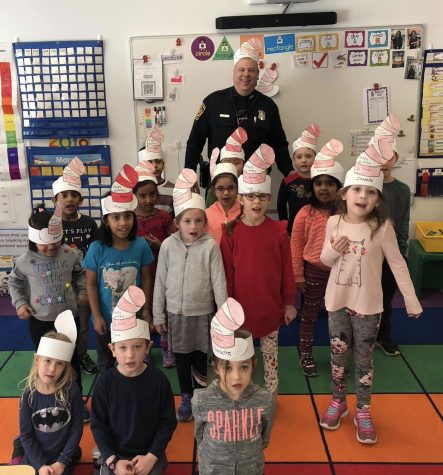 Even after multiple awards regarding his excellence in his field, he attributes all this to the Westborough community.