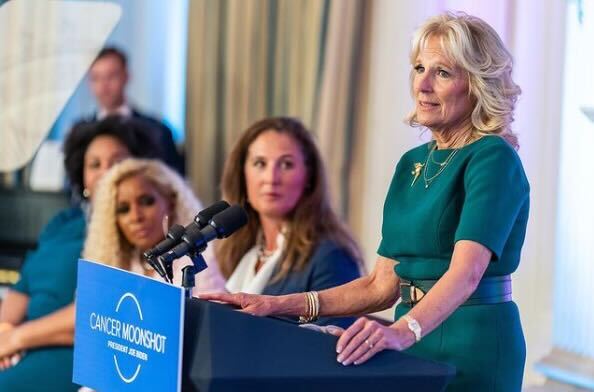 Years ago, First Lady Jill Biden personally experienced the anguish that often accompanies a family member's cancer diagnosis.
"My sister Jan was diagnosed with lymphoma and for six weeks she underwent stem cell transplant therapy. And most of you probably know how difficult that is," Dr. Biden said during a Zoom news conference on Wednesday, July 19.
Dr. Biden's experience left a lasting impact on her and she pushed for the program to be reignited. The White House Cancer Moonshot Initiative, originally spearheaded by Joe Biden during his last term as vice president in 2016, is now receiving more attention from his administration.
With cancer as the second-leading cause of death in the United States, according to the CDC, the initiative has set two goals: to prevent more than 4 million cancer deaths by 2047 and to improve the experience of cancer patients and their families.
Dr. Biden, along with CMS administrator Chiquita Brooks-LaSure, emphasized that with the proper funding and help from all sectors, the Cancer Moonshot Initiative will have a tremendous impact on the way people in the United States deal with cancer.
Numerous individuals in the US currently face challenges when it comes to accessing healthcare. These obstacles may include issues such as limited transportation, lack of access to care, fear, and an inability to communicate.
Through her travels across the world, Dr. Biden has seen the need for an increase in navigation services for cancer patients and their families. Navigation programs would provide people and their families with the needed resources for before, during, and after a cancer diagnosis. 
"These navigation programs are so successful but since they aren't generally paid for, most medical practices can't afford to provide them," she said in detailing the most consistent comment she received from healthcare workers and patients.
A currently proposed program would allow Medicare to pay for patient navigation services allowing people to have access to support in more areas of the country, regardless of language or background.
The Health Resources and Services Administration granted $10 million to 22 federally qualified health centers in hopes of increasing cancer screenings and early detection services for underrepresented communities. Mammograms, HPV tests, low-dose computed tomographies, and other types of screenings can catch cancer early on, if done regularly.
So far, the Cancer Moonshot has worked toward improving the experience for loved ones and patients as they navigate their journeys with cancer. The initiative has allowed many departments to make changes that help patients.
The US Department of Labor provides resources so that patients and family members know their rights as employees during this process, and the Inflation Reduction Act caps out-of-pocket prescription drugs at $2,000 per year for patients with Medicare.
"That's why we reignited the Biden Cancer Moonshot," Dr. Biden said. "To build a world where the word 'cancer' loses its power. A diagnosis isn't a death sentence."