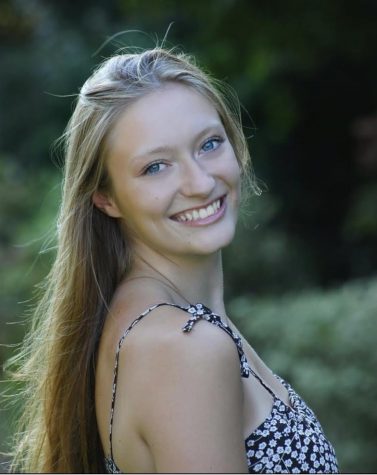 Westborough High School senior Emma Proffitt has been in the Westborough schools since first grade. She comes from a family with two younger siblings and is the first to go through the college experience with help from her mother.
Although Emma is very self-motivated, her mother is her biggest supporter and provides her with any information or guidance when necessary. She is the example whom Emma looks up to because of her creative, intelligent, passionate, and brave characteristics.
Although everyone is experiencing challenges due to the same pandemic, each person has their own individual story. 
Emma found that Covid-19 has both negatively and positively impacted her senior year. It has kept her from fun senior activities and traditions, like not being able to attend prom, which she exclaims is "a right of passage that a lot of people will miss". Covid-19 has tantalized Emma as this long-anticipated year was buried under layers of masks, regulations, and limits, leaving a sense of isolation for many seniors.
At WHS prior to the pandemic, Emma's favorite time of day was break, where she could talk with her friends. This year, she was more than excited to see friends that she hadn't seen since the pandemic first hit. Not only was this casual break taken away, but a "mask-break" took its place. Unfortunately, there are designated locations and only a quarter of the school has their break at one time, separating her from many friends.
Along with living through a pandemic, Emma had the workload of applying to colleges. She feels that Covid-19 hasn't impacted her search nor process a lot considering she visited her favorite colleges before March. Currently, she has applied to all of her schools and was accepted into her dream college: Holy Cross! The stress decreased immensely as 'Congratulations!' emails began rolling in. Her only hope is that she "still gets the college experience". 
Even with a pandemic, Emma never skipped a beat and found this year to be beneficial for her grades as she accommodated a balanced schedule where she could get a good amount of sleep, time to workout, and do assignments.
Emma isn't set for a specific career path for the future as far as college is concerned, but her mom helps her through everything. Emma is "excited for a new chapter in life" and despite WHS being a place of comfort where everything and everyone is familiar, Emma feels she will grow in college. Covid-19 has allowed her to grow as a person — even cutting her hair was a significant change during this time. Emma will make an amazing student in college and is a beautiful person in the world, inside and out.