Social Distancing at WHS: The Latest Thoughts and Trends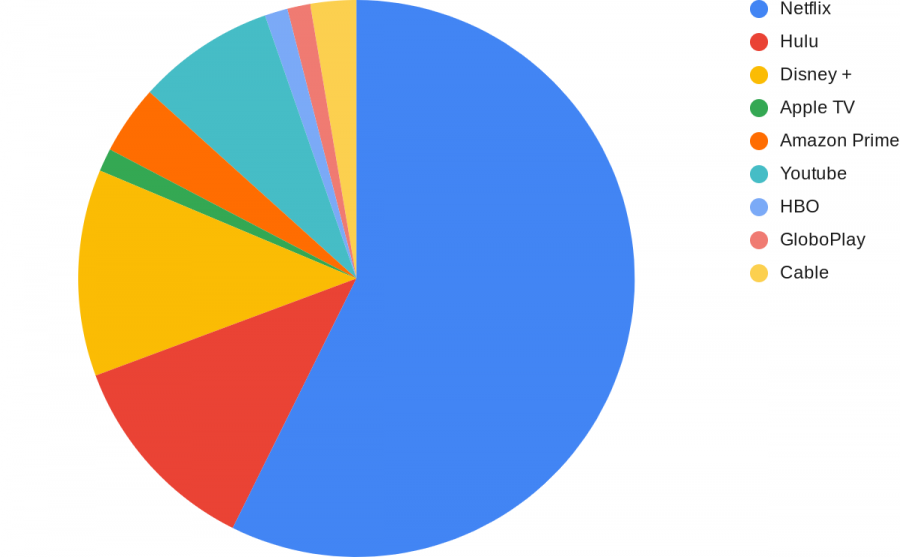 Emily Coffey '23 and Brooke Oberlee '23, Contributing Writers
April 18, 2020
What have Westborough High School students been doing during social distancing? We sent a poll to find out! Read the article and see the results!
Due to recent social distancing measures, we sent out a survey to Westborough High School students to find out what they have been doing as well as to hear their thoughts during this time. After two weeks, we gathered 68 responses and analyzed over 600 pieces of data from WHS students of all grades. Read below to see our results.
The first thing that became distinctly evident after reviewing 68 responses was the change in excitement concerning time off. Sixteen percent of students said "No, they were not excited when school was initially canceled," which left 83.8% of the vote to "yes" and "kind of." Yet, when asked two to three weeks later, an astounding 74.6% of this same group selected "no." As anxiety, stress, boredom, frustration, and, in some cases, fear started settling in, the majority of the WHS student body realized that this 'mini vacation' might not be as fun or short as they originally thought.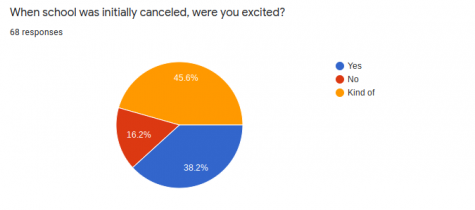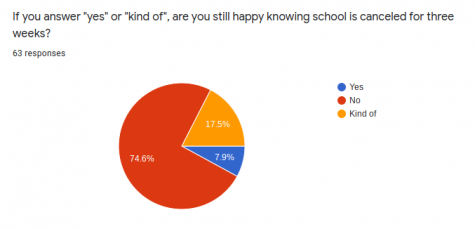 Twenty-one students selected fear as an emotion they have experienced during social distancing which, though it may seem like a small number, totals to about 30.9% of the total vote. Forty-seven students, approximately 69%, also informed us that they had felt/were feeling anxiety and worry. These statistics are in alignment with the results of a previous question, "On a scale of 1-5, how worried, anxious, or scared of COVID-19 are you?" The results: 41.2 % of students measured at 3 and 30.9% measured at 2 with the rest of the vote combined totalling at less than 30%. Though there seems to be some uneasy caution and consternation among WHS students, the positive encouragement of teachers, staff, parents, and the media seems to have reassured the majority.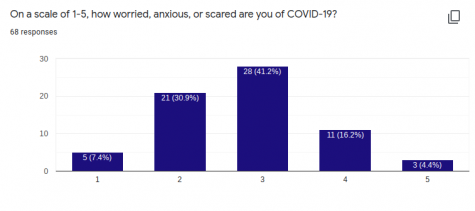 Two other emotions that were equally present in the data were stress and frustration. Forty-six students selected stress, 67.6% of the vote, and 55 selected frustration, 80.9% of the vote. These noteworthy results were further supported by the direct thoughts and feelings of WHS students.
One anonymous source wrote that "(they're) mostly mad about lacrosse being pushed back or maybe cancelled" and another was "finding difficulty in connecting with people due to limited responsiveness."
From spring season sport postponements and cancellations to disrupted friendships and a growing sense of loneliness, the effects of this pandemic extend beyond those contaminated or at risk. In particular, 2020 seniors have lost the last few months of their high school experience. With their senior ball postponed and graduation also in jeopardy, their concerns are reflected in one student's comment: "It's been a little frustrating, just because I'm a senior and I can't be in school and see my friends at all."
There are also students who are dealing with loss or experiencing difficulty in transitioning into a more isolated environment as one student shared: "I have a counter in my room for how many days I've gone without crying and it is at one."
Although there were a number of apprehensive and distressed responses, there is a minority that have benefited from this break. Despite the limited amount of time with their friends, one student noted: "I've been eating healthier as well as working out more, and I'm less stressed about school."
From exercising to baking, it seems that social distancing has freed up time to relax or start that habit/project you never seemed to have room for. Other students have profited from the extra time to sleep in, shorter school hours, and lack of homework.
One student said, "It is nice getting a lot of sleep and schoolwork is relatively low-key now" and another student commented, "Staying home has been great because I don't have to wake up early."
It is important to remember that some students find school, sports, and interacting with peers and staff five days a week, for seven plus hours a day, incredibly tiring. There is a group of responders who have enjoyed the time to themselves and their chosen aspirations.
One student's answered, "I'm heavily introverted so I've been incredibly productive, active and energized (during this break)."
Despite the wide range of mentalities, 92.6% (63 votes) of WHS students agree that they are all "so bored."
Boredom was the top ranked emotion WHS students experienced, and 14 out of the 23 option responses noted this. Unfortunately, boredom can lead to negative thoughts or irritation at a 'waste of time;' however, it can also be a place to use one's imagination and creativity. Therefore, we hope you enjoy and become interested in the entertainment and activity recommendations fellow WHS students thought were worth sharing.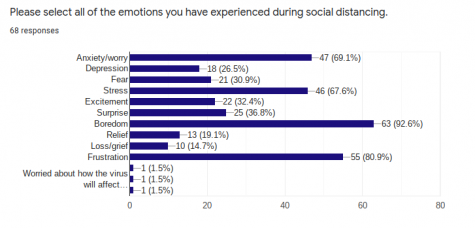 Top 5 Results:
Using phones/electronics: 65 votes
Sleeping: 63 votes
Checking Social Media: 61 votes
Watching movies/TV: 59 votes
Walking/Running: 52 votes
Students were asked to check off all of the activities that they had done so far during social
distancing. While every activity gained a few votes, there are five activities that seem to be the most popular: walking/running, sleeping, watching movies/TV shows, using a phone, and checking social media. Not to anyone's surprise, using a phone and checking social media were in the top five activities being done by WHS students, but many people have also been outside getting exercise. Now let's break down the data, look at some trends, and get some recommendations.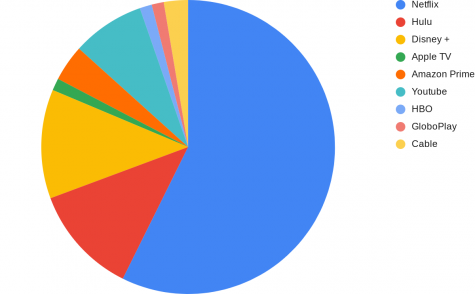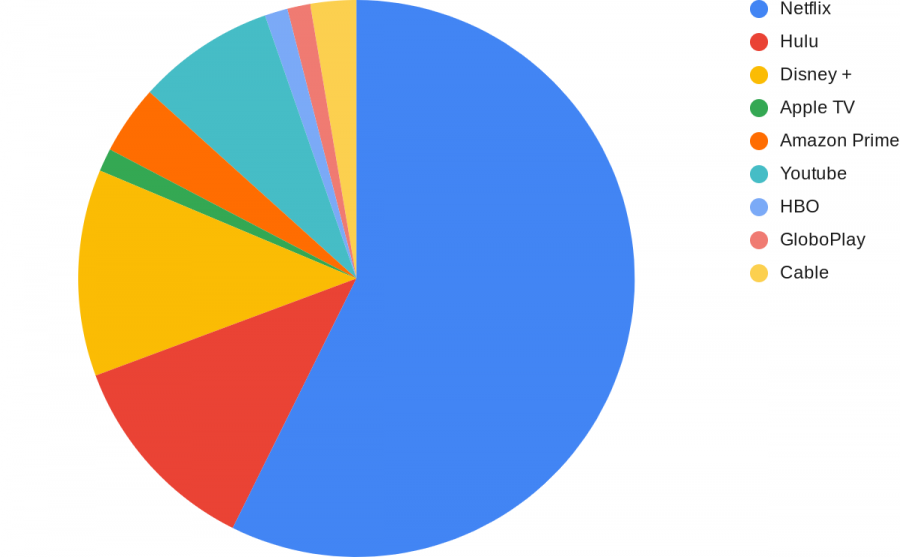 Sports and Workouts: "You'll feel good about it and let's be honest, you have nothing better to do"
Among students who selected sports, just about two-thirds of the votes were for playing basketball, soccer, or baseball, half out of those sports were solely for basketball. With nothing else to do, and with AAU and club seasons for basketball and soccer starting up, this seems like an expected trend. Although it is hard to play with friends, many WHS students are still trying to get outside and have fun. Several students have also suggested at home workouts, so the next time you get bored, think about getting out your weights, yoga mats, or just hopping on the treadmill.
Streaming, Shows, and Movies:
With less commercials and shows you can watch anytime, most kids are streaming rather than watching what's on TV. From the results of our poll, Netflix is by far the most widely used streaming service by WHS students, making up over 50% of the votes.
Here are some student TV and movie recommendations:
Tiger King —- On Netflix
All American —- On Netflix and Youtube
Inception (Movie)—- On Youtube, Netflix, and Amazon Prime
On My Block —- On Netflix
Grey's Anatomy —- On Netflix, Hulu, and Cable
Vampire Diaries —- On Netflix, Youtube, and Amazon Prime
Ozark —- On Netflix
Stranger Things —- On Netflix
It might be worth it to take a look at these shows the next time you're looking for something to watch.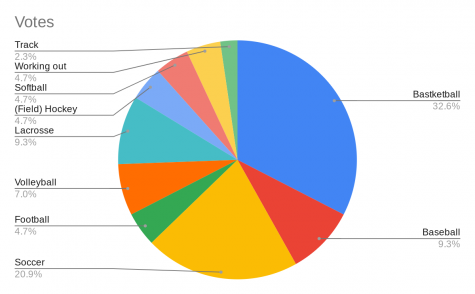 Video Games, Books, and More!
While they may not have been in the top 5 activities for students during social distancing, playing video games, reading, and baking or cooking were close followers. Listed below are just a few of the many recommendations.
Top 3 Video Games: Grab your controllers to play some of these favorites!
Call of Duty
Fortnite
NBA/NHL/MLB/FIFA
Reading: Whether it's raining or you're just looking for something to do, grab a book and find a cozy spot to read!
A few honorable mentions:
The Glass Castle by Jeanette Walls
Silence: In the Age of Noise by Erling Kagge
Coyote Sunrise by Dan Gemeinhart
Whitey Bulger by Kevin Cullen and Shelley Murpht
Six of Crows by Leigh Bardugo
Baking
And if you want something more hands on, try baking or cooking as many people have recommended. You may find that you have a real talent for cooking or it just might impress your parents.
Disclaimer: Though every vote was counted and every response considered, we were selective in the quotes and recommendations we included. Therefore, this article does not contain all of the responders individual thoughts.