WHS Students Winners of MLK Community Celebration Writing Contest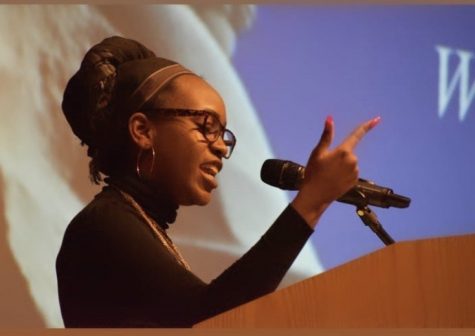 On Monday, January 20 the annual Dr. Martin Luther King Jr Community Celebration was held at Westborough High School. Two students from Westborough High School, junior Kyla Kamugu and freshman Shannon Clark won the MLK writing contest and were able to present their work at the event.
This creative project contest and event was co hosted by Westborough Interfaith Association, Central MA Connections in Faith, Westborough Public Schools, and Westborough Connects.  All high school or middle school students from and outside Westborough were invited to submit an essay, poem, film, or creative project that is relevant to Dr. Martin Luther King Jr. This year the event also featured keynote speaker Maria Milagros who is a coach and author (Super Sparkly Everything). 
Contestants had two prompts to choose from to submit their work. Each year the prompts change for the contest. This year, one prompt asked students to create a submission based on the theme of Our Diversity is our Strength with the question: How does the life and witness of Martin Luther King Jr. help you reflect, connect, and heal in our world? 
The second prompt asked students to create a submission based on King's idea in his book, which is that fear is the ultimate cause of hate, prejudice, and violence. The contestants were asked to share their opinion on his idea. Both Clark and Kamugu were intrigued by this prompt so they chose it in which to write their submission.
Kamugu shares that she applied for the award for fun, not expecting to be chosen as a winner as a result of it. Kamugu composed a poem. 
She explains, "I made it about the black struggle here and I incorporated the fear into it, so I kind of did it backwards. MLK was a fighter for black justice. I made it about what he was for and what we are doing now as a country for it."
As a student originally from Kenya,  Kamugu felt a connection with the prompt, "He was one of the champions that helped black people get the rights that they deserve so it was kind of a hit home topic because I am a part of that and they're my people."
Because she won the contest, Kamugu was invited to share her poem in front of a large group of people. For only being in America for almost a year, performing her own poetry was a big step for Kamugu. 
She shares, "This is the first time I have performed my own poetry in America so it is kind of a big deal for me. I have never performed my own poetry, I have only performed other people's poetry, so this is the first time I have gone public with mine so it was really cool."
Clark entered her submission on behalf of the second prompt because of her fascination with Dr. King and his ideas. 
 "I am very interested in history and political science so applying theories such as Dr. King's to modern day and historical ways is really important to me," Clark comments.
Clark continues, "I took Dr. King's words and applied to U.S. History in general, not just U.S. but world history so I talked about how fear was involved after 9/11 and prejudice was involved during the Japanese internment camps and then I tied it into the Civil Rights movement and how violence was used." 
Clark was confident and excited to share her winning piece at the celebration. 
"I too am opinionated about a lot of things and this was the first opportunity I have had to share my viewpoint. I thought that it was a great experience to be able to speak in a large group of people and it was a fantastic experience," expresses Clark.
Not only were Kamugu and Clark able to share their pieces as winners of the contest; in addition,  they both received $100 to donate to a charity of their choice.