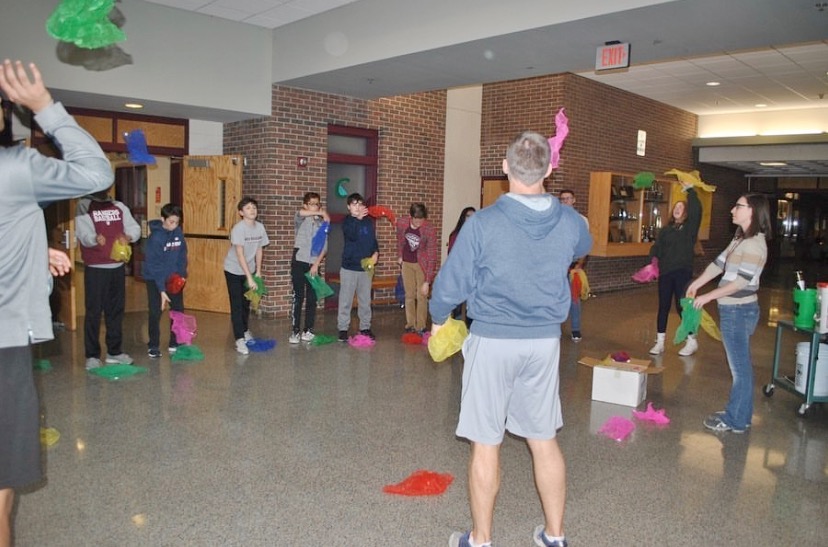 Student Council
On Friday, November 22, Student Council and Teen Advisory Board ran the first Mental Health Day workshops at WHS. These workshops consisted of different stations that were run by different teachers and faculty to help relieve students' stress. 
This event was brought to Student Council by junior Sarah Cox who is a member herself. Cox is also on the Teen Advisory Board (TAB) which led her to the opportunity to attend a conference where she had learned about the idea of doing mental health stations. Cox then shared the idea with Student Council which lead them to form a team to take on the project. The team consisted of Miara Sasdi (president), Mike Durr (fundraising overseer), Ethan Chan (events overseer), Derek Lu (community service overseer), and Eva Drotch (event chair). They worked alongside Mrs. Glenn and TAB to make this event successful. 
Some of the stations included:  coloring, make your own calm bottles, make your own silly putty, make your own stress balls, aromatherapy, therapy animals, yoga, and more. 
Mrs. Glenn ran the therapy dog station with Mr. Desjardins and Mrs. Roney. They had four therapy animals and their human volunteers participate. 
Glenn states, "I loved seeing students sitting or laying down with the animals and smiling the whole time that they are petting them or visiting with them." 
Glenn also shares that this event gave students a true fun and positive break in their sometimes stressful days. She stresses the importance that it is okay to take a break and it is okay to check in with yourself to see how things are going / feeling. She hopes that students walked away feeling less stressed, more happy, and with new ideas for how to take a break or do something stress relieving for the future. 
Physical Education teacher Mrs. Caruso managed the yoga station and went through many relaxing yoga poses with the students at her station. She too, thought highly of the mental health workshops.
"I believe many students benefited from the yoga station. Most students were actively engaged throughout the entire workshop. It is beneficial to the students to give them these experiences to incorporate these skills into their lifestyle," Mrs. Caruso comments.
Sasdi was very pleased with the event as a whole. As this was the first year the event was ran, it was very successful overall. 
She says, "This was the first time we have ever done something like this, it definitely wasn't perfect and there are improvements to be made in the future. It was really nice to bring the whole school together for this event and I think because it was about Mental Health it got the conversation started and both students and teachers seemed to enjoy it."
She thanks administration and staff for allowing this event to happen and appreciates the experience she and other students gained as a result.
 Sasdi, Student Council, and TAB are happy with the positive support and feedback towards the event and are planning to have another Mental Health station again around March.