On Friday, October 25, Westborough High sophomore and Student Council Historian, Alex Goldberg hosted a Haunted House out of his home with the help of the rest of the council. Many young families, as well as a handful of high school students, attended the event. Small donations were suggested in order to help fundraise for the council.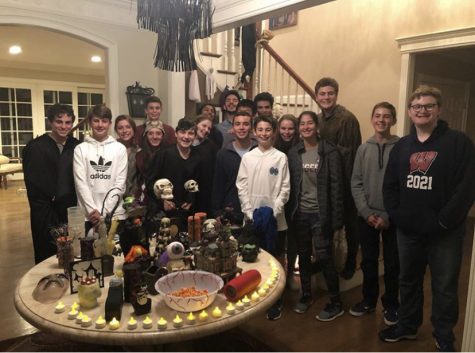 The haunted house was originally set up in Goldberg's former neighbors' home for many years. When their neighbors' moved away all of the decorations were given to Goldberg and his family so they could carry on the tradition. For the past few years they had it set up for Halloween night for trick-or-treaters to go through, but this year Goldberg wanted to bring in Student Council to make it an event of its own. Goldberg explains, "The haunted house is something that I have always enjoyed doing and something I thought was a lot of fun. We had all of the stuff so I figured we should just go for it."
Goldberg and Student Council advertised for the event mainly through social media. Through the Student Council social media they were able to advertise to the Westborough student body. They also handed out a number of flyers as well as using the bulletin board in the high school. To help reach younger families they posted in the popular Facebook group for many parents, Wicked Wise Women of Westborough. 
In addition to using the decorations that Goldberg already had, many were also donated from Student Council members. It took over 10 hours total for the council to set up the haunted house. 
Participants entered through the front door into the foyer that was decorated by many Halloween decorations. They then waited at the basement door where they could choose a level of spookiness that they wanted to experience. The haunted house was filled with spookers played by Student Council members, creepy music, and scary lights and decorations. 
The haunted house event turned out to be a success for Goldberg and the council. Goldberg explains, "I think it went really well. We raised a lot of money for Student Council, and everybody had a lot of fun."
Looking to the future, Goldberg hopes to run the event in the following years. For improvements, Goldberg is thinking, "As far as changes we should work better on advertising farther in advance and reaching out to even more people."