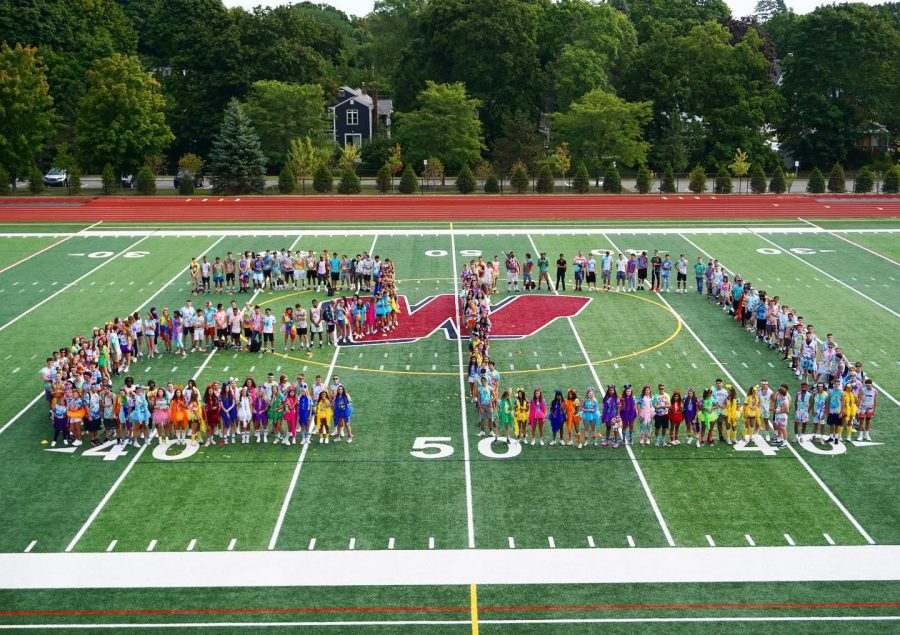 With the start of the new school year, the class of 2020 seniors carried out the long-standing tradition of Senior Day by filling the halls with lots of tie-dye, yelling, and childhood backpacks. This day was not only the first day for our new freshman but also a chance for the seniors to celebrate their last first day at Westborough High School.
As always, the class started their day with a parade around the streets of Westborough. The seniors were joined by parents, alumni and fellow town members as they made their way through the streets and eventually ended up back at the high school for breakfast. Everyone in school knew the seniors had arrived when the halls were immediately filled with screams and whistles.
Although the first day can be a little crazy, it is definitely something everyone, including Mr. Lefebvre, look forward to. "I'm going to be completely honest, I definitely miss seeing the students during the summer so it's definitely nice to see everyone on the first day," said Lefebvre.
He also adds, "A lot of people ask if this day is stressful, which it definitely can be if you let it, but otherwise it's just a fun day…it's nice to see all the hugs and laughs."
The day ended with a school assembly in the lobby, giving the seniors a chance to run out in front of everyone in the school and spread their spirit. Like all assemblies, it included speeches from a few key members of the class of 2020, including Student Council (StuCo) President Miara Sasdi. "It was definitely nice to come together as a class," Sasdi says, "it's weird because we've all watched this day happen three times before and now it's finally us." In addition to the energy created by the senior class, Sasdi also says "it was nice to have the whole school together, listening and excited."
The assembly concluded with a speech from Class President Rhea Balasubramanian. While reflecting on her first day, Balasubramanian states it was "nothing short of exciting and memorable." Leading her class since sophomore year, Balasubramanian also recognizes that the whole class has "truly created a bond that is unlike any other". Despite the bittersweet moments and many upcoming "lasts", she is still very excited for the upcoming year, saying "we just all have to keep working just as hard as we have been these past 12 years, and continue to make new memories- it's going to be a year forever remembered by us all!"
As the first week of school comes to a close the new school year has officially begun. Best of luck to all students this year, specifically the seniors, in their last year at Westborough High School. Hopes are high that the excitement from the first day continues throughout the entire year.