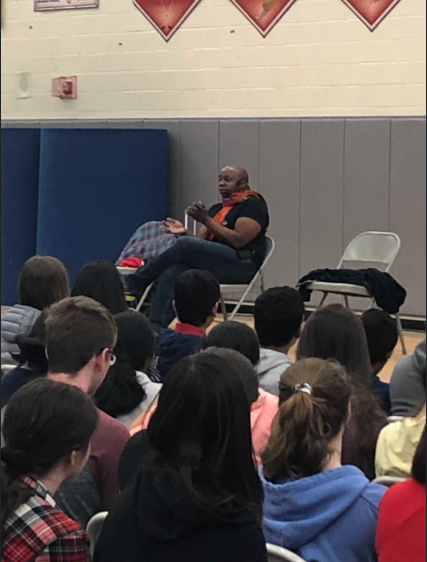 Dr. Michael Fowlin (known as Dr. Mykee)  visited Westborough High School's gymnasium on Tuesday, April 2 to deliver an eye-opening speech for many students. Mykee Fowlin is a psychologist, poet, and performer.  In his presentation at WHS, he played the roles of four different individuals with different personalities and life experiences. As a variety of situations were presented through these characters, the hope was that both students and staff were able to connect with at least one idea presented by Dr. Fowlin.
Before playing these characters he asked students to share something sad that has happened in their lives. By students hearing from their peers, he told students that they are not alone and to be more aware of others' situations. At the conclusion of Dr. Fowlin's speech, WHS principal, Mr. Callaghan encouraged any students to visit guidance or talk to a trusted adult if they are in need of someone to talk to.
Westborough High School history teacher, Mrs. Miller, shares that the most meaningful part of the speech was, "When he talked about the boy in the wheelchair and how another boy pushed him and he couldn't get up, but what hurt was when his friends who he thought were friends just walked away. I think it shows that kids sometimes don't realize they are being a bystander or doing anything wrong."
Some students felt that it would have been more impactful if it were done in a smaller group instead of the entire school at once.  One WHS senior explains, "Usually at Westborough High School, students don't engage in assemblies and presentations, but during Mykee Fowlin the gym was actually silent, which meant that people were really listening."
The following week, Kindness Week began throughout the Westborough schools and community. Teachers at the high school discussed the speech with students and did an exercise to incorporate both the message of the speech and to kick off Kindness week.
Mr. Anderson, head of the wellness department shares, "The Mykee Fowlin presentation made me very proud to be a part of the Westborough High School Community.  The fact that we could all come together respectfully and embrace real, challenging issues together was pretty special. Mykee's presentation resonated with me personally in a number of ways, and I think having him come right before kindness week was very timely and appropriate."
To learn more about Mykee Fowlin you can visit is website http://mykeefowlin.com/