WHS to try Alternate Learning Days During Snow Days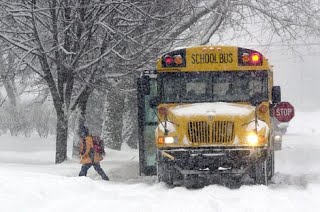 Hang on for a minute...we're trying to find some more stories you might like.
Gemma Smith '19 and Asad Bhatti '19
Last year during March 2018, Westborough High School endured a mini school vacation with the four consecutive snow days we had. Many students at that time were thrilled with the idea of missing that much school, but academically, many assignments got pushed back due to the delay.
This year, a new possible idea has been discussed called "alternate learning days." This idea is for potential upcoming snow days, where we could still get credit for the day to count for a regular school day. The goal would be for WHS students to do a minor assignment at home for one of their scheduled classes for that specific snow day, and it will count for credit for that class. This way, students do not have to endure adding on extra days at the end of the year and can work from the comfort of their home.
When asking administration what their views on this new idea were, Assistant Principal Mr. Lefebvre provided further insight.  He shared that this initiative has been in the works for a while now, and administrators have been trying to think of a more creative way to use snow days.
This year after the delayed start to the year, administration felt it would be a good idea to make sure the snow days wouldn't push back the end of the school year. Mr. Lefebvre also mentioned that the work assigned for these alternate learning days will not be due the following day. Students will have anywhere from two to five days to complete the assignment and turn it in.
However, this idea only works if eighty percent of the student body or more participates and turns in their assignments. The grades earned on the assignments will not be reported, but rather the number of students who actually completed it. The assignments would have to be current with what students are learning about in class as well. Teachers and administrators must report back on how many of their students actually participated in doing the  work, in order for the snow day to be considered an alternate learning day.
Students have differing views regarding the alternate learning days. WHS junior, Corina Gencarelli says, "I don't think students are really going to participate in the work. I feel like it might end up penalizing the students who actually do the work, but I think the idea is in the right place."
"Overall if this goes well, it will continue to be considered for the future," says Mr. Lefebvre. He mentions too that regardless, graduation for seniors would not move even if the alternate learning days do not work out.
Many seniors at WHS also hold differing opinions regarding the alternate learning days. Graduation is on June 1, 2019 so there is a fear that because of this date, many students will not contribute to doing the work.
"I personally think that it's not a bad idea. I usually get bored after a while during snow days because I'm just stuck at home. This alternate learning day doesn't really affect me because I am a senior, but I think it's a good idea for younger grades" says Jalen Worstell, a senior here at Westborough.
Based on the lack of snow so far for this winter, it will be interesting to see if any of the alternate learning days will be used. For seniors though, the good news is either way, no changes will be made to when they get out.