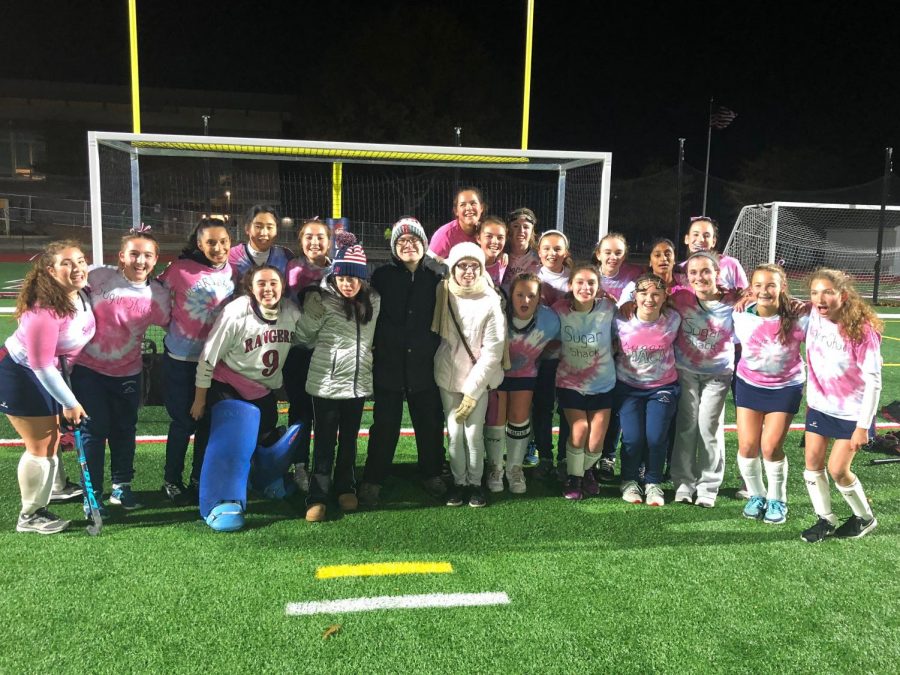 The Westborough field hockey team hosted their annual charity game on October 24 to benefit The BORO program's Sugar Shack.  The BORO program is designed for students from 18 to 22 years who are eligible for educational services to support their successful transition into adulthood.
The Sugar Shack is part of the BORO program's initiative to build a candy and gift store in downtown Westborough.  It will be an on-site learning lab and training center for the BORO students to learn job-related skills in a real business setting.
The field hockey team raised over $500 by selling brownies, cake-pops, and other baked goods along with candy jars at the game. Three of the students from The BORO Program came to support the Rangers against Marlboro on Wednesday night.
During the game, the students led the cheers for the team, as well as joined them in their pre-game ceremony, while the starting line up was announced. They continued to cheer on the team by supporting the coaches and rest of the players on the sidelines.
Although the Rangers lost to the Panthers 2-0, the Rangers were able to support a great cause.
Ms. Stark one of the teachers at The BORO Program, joined her students at the game. Stark reflects on the game, "The charity game was a very special event that we were honored to be a part of! Thank you to the girls for including my students and making them feel apart of the team!"
Stark also appreciated how the girls included the students in their warm-up and also wore tie-dye shirts in honor of them.
If you are interested in donating towards The BORO Program's Sugar Shack you can visit their go fund me here: https://www.gofundme.com/boro-sugarshack-westboroughschools they have raised over $9,000 in just one month and hope to raise $30,000.  
The Boro Program is excited to bring the Sugar Shack to the Westborough community and they opened the shop on November 15.