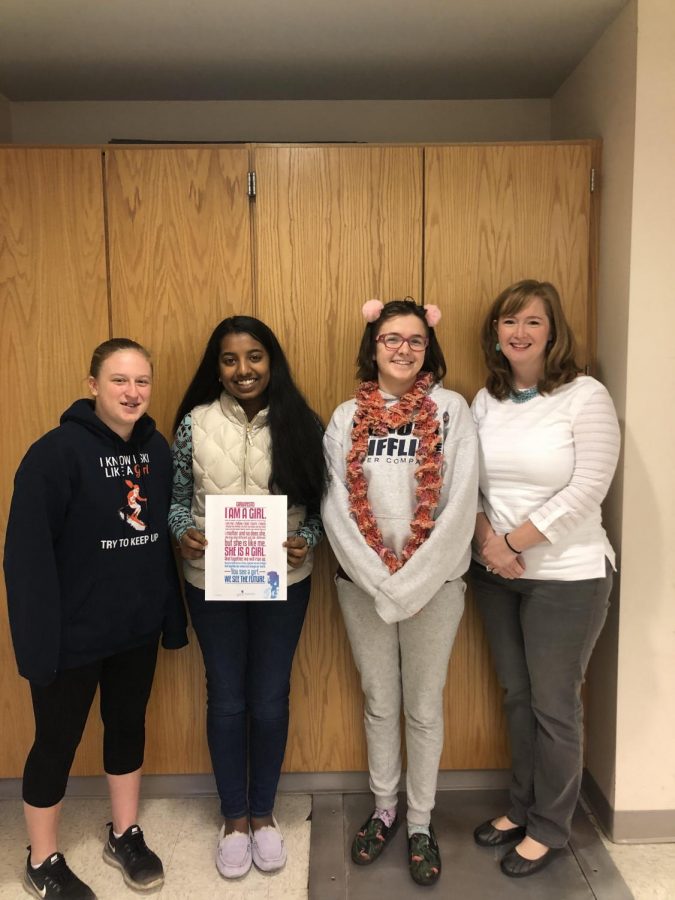 By:  Caroline White '21
Meet the newest club at WHS:  Girl Up. Founded by President Vennela Vavilla (sophomore) and advised by health and wellness teacher  Mrs. Gavin, Girl Up is a club that focuses on empowering girls and women in our community as well as the global community.
Vavilla says, "I wanted to find a club that had to do with this type of girl empowerment."
She found that Girl Up is a national campaign founded by the United Nations with chapters in schools all over the country. It focuses on raising money for girls in countries like India, Liberia, and Guatemala  for needs such as healthcare, education, and safety. The club also takes action within the community to empower girls to use their voices and build their confidence.
In other countries as well as the U.S., girls face problems such as sexual abuse, improper education, and gender inequality. These are the issues that Girl Up plans to advocate for. The club hopes to raise money through fundraising to go towards helping girls facing these challenges in other countries.
When asked about her inspiration to start a chapter of Girl Up here, Vavilla says "In the beginning of high school, I didn't feel very strong to express my own opinions, even in class I was a little scared… Girls don't have the motivation to express what they want to say. Girls are kind of underrepresented at this school."
Member Cary Chiarelli (sophomore) recalls that her Girl Scout troop ran a confidence workshop for girls in the sixth grade. She feels that high schoolers could use the same skills to assert themselves and build their confidence.
The members of Girl Up hope that this club will give the girls in this school a safe place to express their feelings and opinions, and a way to empower and support other girls globally and locally.
Mrs. Gavin hopes to " help as many girls as possible in Westborough to use their voices and their power to stand up for themselves and to put that good to work into communities where women have even fewer opportunities than we have here."
On why she thinks this club is important to the WHS  community, she says, "I feel like this is a community of good, kind girls and women and sometimes our goodness and kindness keeps us from achieving things because we're trying to make other people happy. The time is here for girls to reclaim their power and embrace it."
She wants to encourage girls to empower each other, and to promote the community among girls in Westborough.
Girl Up is a club that is open to anyone who wants to help their cause. The group meets every first and third Tuesday of the month. If interested, students can stop by Mrs. Gavin's room or contact Vennela Vavilla.
Chiarelli encourages new members to join as "you'll get to know us, we'll have fun!"