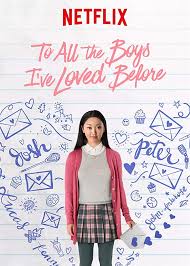 To All the Boys I've Loved Before is not just another love story. It stars Lana Condor, Janel Parrish, Noah Centineo, and was directed by Susan Johnson. It is based off the book that was published by Jenny Han on April 15, 2014. The movie was released on Netflix August 17, 2018. Because of its availability on Netflix, it's now easy to watch anywhere from your bed to the train to work.
Lara Jean, played by Lana Condor, writes love letters to every crush she has ever had since her childhood to get her thoughts and unavoidable feelings out on a page. Her younger sister, Kitty, played by Anna Cathcart, sends all of her love letters out to her crushes because she thinks Lara Jean needs a boyfriend to fill up her otherwise boring life. One of those crushes was Peter Kavinsky, played by Noah Centineo. After making a deal to fake a relationship to make certain people jealous, Lara and Noah start to have actual feelings for each other and the movie turns into their real love story.
Part of the movie's charm is how Lara writes handwritten letters to express her feelings. It is very relatable in the sense that everyone has crushes, but Lara takes it to the next level by writing letters to hers, which she never sends. This is a love story that engages the audience using a handsome lead guy and a lovable lead girl.  
This movie was very enjoyable in our opinion because it has a classic plot but pulls it off as a new interesting story. The movie got 96% on rotten tomatoes, showing that audiences and critics also adored it. To all the Boys I've Loved Before is a great film. If you ever need a movie to laugh or cry to, this is a go-to romance movie and we highly recommend it.