Red Hot Opening for the Red Heat Tavern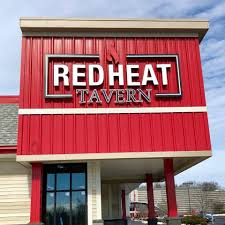 Hang on for a minute...we're trying to find some more stories you might like.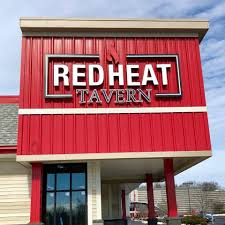 By Ryan Guilbeau and Alex Badger
Many Westborough residents, including us, were very sad to hear that our local Outback Steakhouse was closing back in February 2017. However, the restaurant that opened in its place, Red Heat Tavern, does not disappoint. It is located in the Stagecoach plaza with Unos and the old movie theater, so there is a great parking situation. This is important because Red Heat Tavern was super busy the night we went. Red Heat Tavern doesn't make reservations unless the party size is ten or more; however, our party was exactly ten so we could make a reservation. We went at 7:00 P.M. on a Friday night, which is prime time for restaurants, so if we didn't have our reservation we would've had to wait an hour.
Walking in, you are treated very kindly as the employees hold the door open for you with a smile. The inside looks quite nice, and there are plenty of tables to seat everyone. The staff overall was caring and kind, and they helped us with all of our needs. Considering how busy it was at the time and the large size of our party, we got our food surprisingly fast.
Red Heat Tavern's menu had a huge variety of food to choose from including many different appetizers, salads, burgers, sandwiches, steak, ribs, chicken, fish, and sides. They also have a kids menu so the whole family can eat together. Even though Red Heat Tavern is a barbeque restaurant, you don't have to like meat to have a good meal. The restaurant is doing a great job of making sure there is a meal for everyone with dishes such as the Mediterranean Rice bowl. Everything is cooked on site, so the staff is able to accommodate to any allergies. If you're worried about cross contamination in an order, you can tell your server and they will be extra careful to make sure everything runs smoothly.
We ordered a burger and the Mexican stuffed peppers and they were both absolutely delicious. The burger was enormous, so you certainly get what you pay for. The burger had bacon, cheddar, onion strings, and honey barbeque sauce. The quality of the beef was great and the bacon and the sauce really topped it off. The fries added a nice touch to the burger.
The Mexican stuffed peppers consisted of a bell pepper filled to the brim with cilantro rice, roasted corn, black bean salsa, cotija cheese and chicken. This came with a pineapple salsa and arugula. Although we got ours with chicken, this is one of the vegetarian options at Red Heat, as they do give you the option to take the chicken away. Similar to the burger, this meal was very large, and the beautiful blend of tastes worked into the bell pepper was spectacular.
We were really impressed by Red Heat Tavern. The staff was great, as they were very nice, helpful, and hardworking. The decor of the restaurant was great, and there was a large bar right in the middle of the restaurant with TVs on all sides. You can see a TV no matter where you are sitting. The menu was very diverse so everyone could find something they liked, and the food was fantastic. It was pretty loud inside because of how crowded it was, so if you aren't a fan of loud places we wouldn't recommend going. Otherwise, this is an excellent establishment that we would definitely recommend.
Address: 227 Turnpike Rd, Westborough, MA 01581
Phone: (508) 329-1795
Hours:
Mon-Wed: 11:30 A.M.- 10:00 P.M.
Thu-Sat: 11:30 A.M.- 11:00 P.M.
Sun: 11:30 A.M.- 9:30 P.M.
Website: https://redheattavern.com/