Save an Elephant: Buy an Ivory Ella Product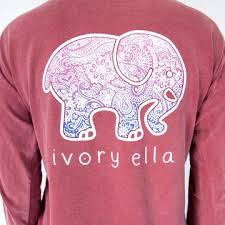 Hang on for a minute...we're trying to find some more stories you might like.
By: Cassidy Lattanzio
"At the start of the 1980's there were more than one million elephants in Africa. During that decade, 600,000 were destroyed for ivory products. Today, perhaps no more than 400,000 remain across the continent," according to Samuel Wasser of the University of Washington. Each year, about 30,000 African elephants die due to poachers. Poachers continue to hunt these peaceful, caring creatures to make a profit from the sale of their tusks.
Why tusks? Ivory. Ivory is one of the most valued products in the world. It is found in many expensive stores and is sometimes turned into jewelry statues, piano keys, hand carved sculptures, and many forms of art. Recently, the sale of ivory has boomed in the past year. In China, the sale of ivory has reached up to $1,500 per kilo.
These beautiful creatures are becoming more and more endangered. Many recent studies have shown that in approximately 10-20 years, elephants will completely die off. These numbers are alarming.
Many different organizations have come together such as National Geographic, Save The Elephants, Elephant Jungle Sanctuary, the Nature Conservancy, and The David Sheldrick Wildlife Trust organization, and have been fighting for decades to put an end to the poaching of elephants and many other endangered species. Among these amazing organizations that are all fighting for the safety of elephants, is a business called Ivory Ella.
Ivory Ella is a unique online business that started back in 2015. Ivory Ella donates 10% of their annual profits to saving the elephants and to other charitable organizations in Africa. Most recently, Ivory Ella has donated $1.3 million to the charitable organization Save The Elephants and to other charitable organizations in Africa. They are truly making a difference in this world.
Not only is Ivory Ella a great organization and a thriving-business, it also offers amazing clothing. What is amazing about their clothing is not only that is it cute and cozy, but it has an elephant on the back of every sweatshirt or long sleeve shirt. Their clothing is more expensive than others, but when you look at their mission of saving these warm-hearted creatures, how can you resist making a purchase from them?
When you buy an Ivory Ella product afterwards, you will also feel  good inside knowing that you helped make a difference. Their clothing is also very long-lasting. About two years ago, I purchased two long sleeve graphic Ivory Ella shirts and they have held up really well. The fabric is easy to wash, and it is incredibly soft. One is a pretty sky blue color with an artsy navy blue elephant printed on the back, while the other is a wine-colored long sleeve shirt with a small white and tan elephant printed on the back.They are probably two of my favorite long sleeve shirts.
I am excited because I recently ordered a Sherpa sweatshirt from Ivory Ella that based on the reviews is super soft and warm. It will be great for the winter. The main reason that  I buy clothing specifically from Ivory Ella is because it is not too often you hear of a very popularbrand name store that chooses to give a large percentage to charitable organizations and to elephants. Elephants only bring peace.
They are highly intelligent animals, that stay in families and don't like to be alone. They protect each other. They even hold their own little ceremonies, when an elephant dies. They are sweet, caring, and loving animals that deserve a happy life. Ivory Ella saves lives… families. Ivory Ella is definitely making a positive difference in the world.
Make a difference for the elephants–they deserve it.
Ivory Ella's website
Sources used in writing this article:
http://www.cnn.com/2012/06/15/world/africa/elephants-extinction-africa/index.html
https://www.nationalgeographic.com/tracking-ivory/
https://eventcartel.com/ny/d/events/the-bronx-zoo-is-free-every-wednesday-tickets-3078/
https://en.wikipedia.org/wiki/File:Ivory_Ella_logo.png
https://www.forbes.com/forbes/welcome/?toURL=https://www.forbes.com/sites/fernandoalfonso/2016/08/12/breaking-from-the-herd-how-ivory-ella-is-more-than-just-a-clothier/&refURL=https://www.google.com/&referrer=https://www.google.com/