Loving Vincent movie review:  See Van Gogh's story lovingly come to life through his paintings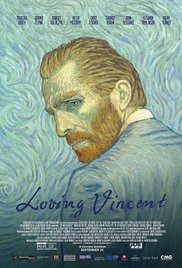 Hang on for a minute...we're trying to find some more stories you might like.
By:  Carol Liu  
One word: masterpiece.
Loving Vincent has made cinematic history as being the first fully hand-painted feature film. Seven years, 65,000 paintings, 125 artists, and 265 gallons of paint created this laborious tribute to the artist Van Gogh. A single second of the movie consists of 12 paintings, and the movie is an hour and 35 minutes long, creating a combined achievement in art and film.
Now playing in select theaters, this PG-13 rated movie has been generating a lot of attention since its trailer went viral in March of 2016. Since then, the media, especially the art world, has been anxiously waiting for its release. The film has lived up to every expectation.
Visually, it is a feast for the eyes. Every scene is beautifully depicted in Van Gogh's distinct style. The characters and settings of his paintings come to life; his popular subjects are depicted as talking, walking people, each with a unique relationship to him, from his doctor to his speculated lover.
The cool part is that viewers may still recognize actors in this film, as the film was first shot with actors and then painted using that footage as a reference. Famous actors such as Douglas Booth and Saoirse Ronan play subjects from well-known Van Gogh paintings, and their acting is very strong and even more interesting to see in painted form. Fans of Van Gogh will also surely enjoy entering the settings of his paintings, anywhere from "The Starry Night" to "The Café Terrace at Night," and having those nerdy moments of recognition when a famous painting of his takes form.
Besides the stunning visuals, the story and flow of the movie itself is also very engaging. The movie is structured like a suspenseful crime investigation of Van Gogh's death, but in the process, the characters (and viewers) learn more about his life. The sheer poignancy of the visuals combined with Van Gogh's story is enough to move someone to tears.  After watching, it is clear that there can be no greater tribute for this artist.
The only obstacle in the movie is possibly the accents of the characters–some of his characters have strong European accents that can be a little bit hard to understand. Still, this wouldn't have been as big of a problem if the visuals had been less beautiful, as sometimes the viewer gets lost in the visuals and forgets to pay attention to the dialogue. 
Perhaps the title summarizes this movie the best. The film's title originates from how Van Gogh signed his letters: "Your loving Vincent."  He is known for suffering as a neglected artist and person while alive. But after watching, everyone is finally going to be loving Vincent.
Sources used (research):
http://lovingvincent.com/technology,48,pl.html
https://news.artnet.com/art-world/new-loving-vincent-film-literally-paints-a-picture-of-the-tortured-artists-final-days-1091630
http://www.bbc.com/culture/story/20171016-loving-vincent-the-film-made-entirely-of-oil-paintings
https://www.bostonglobe.com/arts/movies/2017/10/04/loving-vincent-gets-style-points-for-van-gogh/biYMFxzPi8s5OezfUp9bWO/story.html