Protesting the National Anthem: Advocating for Change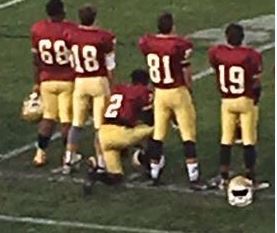 Hang on for a minute...we're trying to find some more stories you might like.
By Kofi Dadzie and Mohammed Ramzanali
The recent rise in the publications of police brutality and systemic oppression of people of color have dominated the media coverage. Most notably in the world of athletics, Colin Kaepernick, quarterback for the San Francisco 49ers, has been taking a knee during the National Anthem in silent protest. Currently 18 other professional athletes in a variety of other sports are conducting similar protests.
Recently, a local football player junior Mike Oppong of Doherty High School in Worcester,  MA  took a knee on the evening of September 9, during the National Anthem of his season opener.  Oppong chose to take the knee in support and solidarity with Kaepernick's protest.  However, he initially was suspended for one game. The suspension has since been overturned. The school realized it had no grounds or right to suspend Oppong because he is protected by the First Amendment.
Police brutality is an issue that is primarily targeting people of color; so standing in solidarity with an athlete who is making the issue public is tremendously admirable. The issue of race remains and a country whose full National Anthem is questionable in our opinion. In the third verse of the original verse of "The Star Spangled Banner" by Francis Scott Key, Scott Key writes "No refuge could save the hireling and slave from the terror of flight and the gloom of the grave."  This line is in direct reference to the defeat and killing of African slaves.

As a people of color, the mainstreaming of the coverage of police brutality and the systemic oppression of people of color in America weighs heavily on our minds at all times. It is important to voice out and advocate for changes to be made. A silent protest, which is actively growing both in the youth and adult athletic communities, gives us assurance that there are people out there, in the same mindset as ourselves , advocating for change. Frankly, we hope the nation will move in a direction that makes people like Colin Kaepernick and Mike Oppong want to stand for the national anthem again.